For dinner last night, I tried a raw beet salad, taking a cue from
Clotilde Dusoulier
and
Mark Bittman
,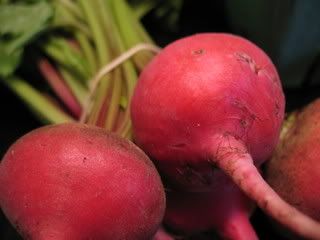 Raw beets are crunchy and only slightly sweet. If you don't like pickled, boiled, or roasted beets, I suggest you try this. The raw flavor is different--fresher and not as sweet--than that of cooked beets...and raw beets really are beautiful.
Raw Beet Salad


5-6 small or medium beets
2 garlic scapes, sliced
1/4 cup feta cheese
4-5 basil leaves, chopped
1 tablespoon extra-virgin olive oil
1 tablespoon apple cider vinegar
1 teaspoon dijon mustard
salt & pepper
Make the dressing by whisking together the oil, vinegar, & mustard with a pinch of salt & pepper.

Trim, peel, and slice the beets into matchsticks.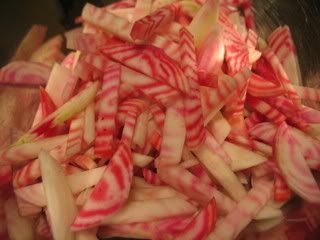 Add the garlic scapes & feta.
Pour in the dressing and stir.
Add the basil & serve.
Most people add them to stir-fries, but you can also grill them, add to scrambled eggs, make into pesto, or add raw to salads. In this salad, they provided a nice spicy contrast to the slightly sweet beets.
If you don't have garlic scapes, you can substitute chives.