I got an ice cream maker a month or so ago and finally made my first batch! It was so easy....just make the custard, chill it, then pour into the machine and let churn for 20 minutes. And voila! Homemade ice cream...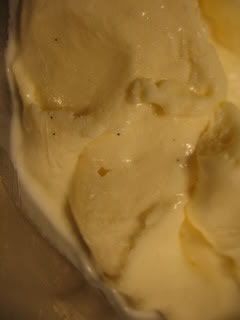 Vanilla Ice Cream with Raspberry Sauce
adapted from David Lebovitz's
Perfect Scoop
For the ice cream:
1 cup whole milk
2/3 cup sugar
pinch of salt
1 1/2 cups heavy cream
5 large egg yolks
1/2 teaspoon vanilla extract
For the raspberry sauce:
1 1/2 cups raspberries, fresh or frozen
3 tablespoons sugar
1 tablespoon vodka
To make the ice cream, warm the milk, sugar, and salt in a medium saucepan.

Pour the cream into a large bowl and set a mesh strainer over the top.
In a separate bowl, whisk together the egg yolks. Slowly pour the warm milk into the yolks, whisking constantly, then scrape the mixture back into the saucepan.
Stir the mixture constantly over medium heat with a heatproof spatula, scraping the bottom as your stir, until the mixture thickens and coats the spatula.
Pour the custard through the strainer and stir into the cream.
Add the vanilla ans tire until cool over an ice bath.

Chill thoroughly in the refrigerator.

Freeze the ice cream custard in your ice cream maker according to the manufacturer's directions.
To make the sauce, mash the raspberries (let thaw a bit if using frozen) together with the sugar and vodka until they're juicy but with nice-sized chunks of fruit. Chill until ready to use.
NOTES & SUGGESTIONS:
Lebovitz's original recipe calls for layering the finished ice cream with the raspberry sauce in a container to make a swirled ice cream.
You could, of course, substitute any berries in the sauce.
If you have the kind of ice cream maker that uses a frozen container (like the
Cuisinart 1-1/2-Quart Automatic Ice Cream Maker
) it is imperative that the container is completely frozen (at least 24 hours in the freezer) and that it remains upright while freezing. You want the liquid inside the bowl's walls, the stuff that freezes the ice cream, to be evenly distributed.
You should also make sure your custard is cold before churning it in the ice cream maker. If it's too warm, it won't freeze and thicken properly.
I used pear-flavored vodka in the raspberry sauce, though you couldn't really taste the booze.
This ice cream and sauce was particularly tasty over warm, freshly-baked, gooey, dark chocolate
brownies
.