Have I mentioned how much I am loving my job at
Kitchen Conservatory
? While I mostly work in the retail store, I have had a few opportunities to help out in the kitchen. I've roasted veggies for the
tower of roasted vegetables
, poached eggs during a brunch class, and made
pound cake
.
One of the best perks is raiding the kitchen for lunch. All the leftovers from classes are ours for the taking...homemade pasta &
gnocchi
,
risotto
, lobster potpie,
crab cakes
, rosemary polenta, crab empanadas, salmon cheesecake,
Cuban rice & bean salad
,
jicama & papaya salad with feta
, grilled beef tenderloin, jerk chicken,
Kalua pork
,
poached trout with beurre rouge sauce
(I actually got to eat the exact plate of food pictured with Anne's article in last month's
Sauce Magazine
).
And there are usually always desserts like
cheesecake
,
creme brulee
,
blackberry gelato
, ice creams, souffles, and freshly-baked apple crumble & blueberry cobbler. Rarely does a day of work go by without some kind of sweet treat.
Normally, I am not a sweet eater but between work,
Tuesdays with Dorie
, and
Daring Bakers
, I am developing quite the sweet tooth...not to mention probably a sugar dependence as well. You see, on Wednesday there were no sweets at work and I felt awful by the afternoon...I just felt off. I think I was sugar-crashing! I drank some sugar-spiked coffee and felt much better. *warning signals going off*
So, I've decided to eat healthier at home so that I can enjoy all those rich, luscious, delicious foods & desserts at work in moderation.
Anyway, I love Heidi Swanson's blog
101 Cookbooks
, so I bought her cookbook
Super Natural Cooking
(which is nominated for a
James Beard Foundation Award
). Congrats, by the way, Heidi!
Both Heidi's blog and book focus on healthy, whole foods (no meat). Her recipes are beautiful...so tasty-looking. On Wednesday, I gave her Black Tea Spring Rolls a try...mainly because I just happened to have the Lapsang Souchong (a
very
smoky black tea that smells like a campfire) that the recipe calls!
I couldn't find the larger 6-inch wonton wrappers to make rolls, so I used the smaller wrappers and simply folded them over into triangles. It worked just as well, though I assume that the rolls sans corners wouldn't get so browned. Nevertheless, these were very good! And the leftover filling could be used for other things....like an omelette filling.

Black Tea Spring Rolls with Mushrooms

and Mango Chutney Dipping Sauce

adapted from Super Natural Cooking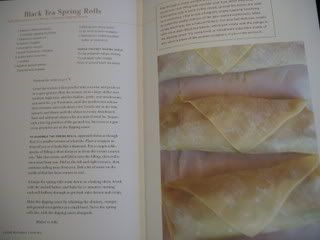 1 teaspoon black tea leaves (preferably Lapsang Souchong but citrus-peel tea would work too)
1 tablespoon sesame oil
1 medium white onion, chopped
1 clove garlic, minced
1/2 pound crimini mushrooms, chopped
8 ounces extra-firm tofu (drained, pressed, & crumbled)
2 handfuls baby spinach
2 tablespoons soy sauce
wonton wrappers
2 tablespoons unsalted butter, melted (or olive oil)
3/4 cup prepared mango chutney
1/4 cup apple cider vinegar
To make the filling, grind the tea leaves to a fine powder with a mortar and pestle or spice grinder.
Heat the sesame oil in a large skillet over medium-high heat. Add the onions, garlic, & mushrooms and saute for 5-6 minutes or until the mushrooms release their moisture and cook down a bit.
Gently stir in the tofu, spinach, and soy. Taste & add more soy if needed.

Season with a few big pinches of the ground tea, but save a generous pinch for the dipping sauce.
To assemble the wontons, place a wrapper in front of you so that it looks like a diamond. Put a teaspoonful of filling in the center.
Dip your index finger in cold water and run it along the outer edges of the wonton.
Fold the wonton in half to form a triangle. Press the edges together to seal.
Place filled wontons on a non-stick baking sheet (a silicone baking mat works perfectly). Brush with melted butter or olive oil.
Bake at 400 for about 10 minutes, until golden brown.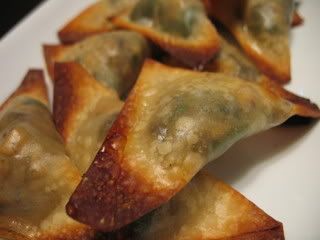 Meanwhile, make the dipping sauce by whisking the chutney, vinegar, and ground tea in a bowl. If the chutney is too chunky for you, try giving it a whirl in the food processor to create a smoother sauce.