This morning was my first time at the
Tower Grove Farmers' Market
, and I loved it! There are only a dozen or so vendors, but they are all local.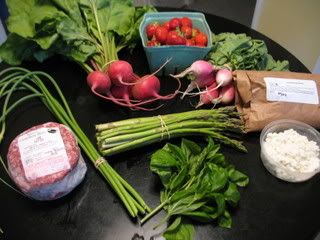 I bought beets, radishes, and strawberries...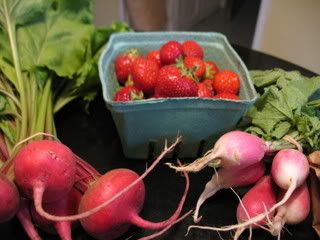 Oh, the strawberries. They are absolutely gorgeous...small and bright red. So fragrant and sweet. I'll probably just eat them all as they are.
...pencil-thin asparagus and basil...
The weather around here has just sucked for basil, too much rain. It's all turned yellow. This is hydroponic grown in Cape Girardeau, Missouri, at ShowMe Fresh Farm.
...lamb patties and garlic scapes...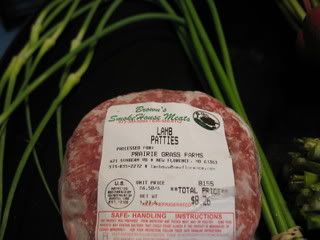 Not quite sure what I'm going to do with the scapes, but they look very similar to the wild onions I picked in my front yard a few weeks ago. Are these the same things?
...goat's milk feta cheese and
salsicca fiama
.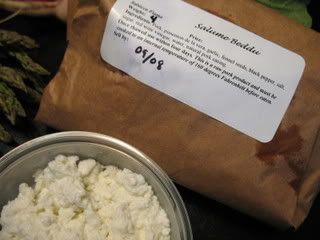 Ok, this spicy Italian sausage is the whole reason I got up at 6:30 this morning to make it to the market when they opened. I was hoping that
Mark Sanfilippo
would have some salami at his new stand called Salume Beddu. However, he only had Italian sausage. That's okay; I'm sure these handmade sausages are fabulous. Plus, I got on his mailing list, and I'll be sure to head over there when the coppas and other cured meats are ready.