My
trip to Los Angeles
was a bit surreal, since it happened so quickly and since I was treated like a rockstar by Sony Pictures, who paid for everything...my flight, transportation, hotel, and "incidentals" (ie champagne from the minibar).
I flew first class on the way out Wednesday afternoon. First class is nearly just like you see in the movies...warm nuts, warm towel, free booze, handsome & charming guy sitting next to you. Victor was his name. He was actually very nice to me. I got a little scared on takeoff and shed a few tears. Afterwards, Victor made a point to talk to me the entire flight to keep me distracted. He's from LA and was returning home after doing some business in St. Louis. He showed me a picture of his gorgeous family, and we talked about food.
Flying over the mountains of California
When I got to LAX, there was a driver with my name on a sign. It made me giggle. He drove me to the legendary
Roosevelt Hotel
in Hollywood, birthplace of the Academy Awards. It's decorated in a minimalist rock-n-roll/Hollywood theme. My room featured a huge black and white photograph of Debbie Harry and a funky shower with no curtain, only a small glass partition (s0, yeah, I got water all over the bathroom each time I showered).
The hotel is on Hollywood Boulevard, right across the street from Grauman's Chinese Theater, where they have all the stars' handprints & footprints. I was touristy for about 15 minutes while I walked around.
I took only one picture there, Meryl Streep's square. I thought that was appropriate for the trip since she stars as Julia Child in the film
Julie & Julia
.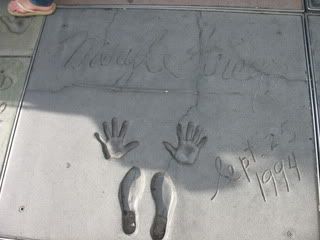 I then saw a huge crowd of people all huddled together on the sidewalk. I got closer and realized they they must be crowding around Michael Jackson's star on the Hollywood Walk of Fame. I am very glad I missed the fiasco of his memorial the day before.
In the hills across the street looms the Hollywood sign. I took a quick picture, then headed back to the hotel to get ready for dinner.
I met Amy from
Cooking With Amy
that evening (she was the only other blogger who flew in for the event), and we ate at Mario Batali's
Pizzeria Mozza
. Dinner was wonderful:
Fried squash blossoms with ricotta
Bone marrow
al forno
(I finally understand why people go ga-ga over this stuff.)
Margherita with mozzarella, tomato & basil
Rapini, cherry tomatoes, anchovies, olives & chiles
Before the big event on Thursday, I woke up early to have breakfast and read out by the pool.
I met Matt of
Matt Bites
at lunch, then we (along with Susan of
Food Blogga
) were chauffeured off to the Arclight Theater to see
Julie & Julia
. (I LOVED it. More details about the film will be posted later; I'm not supposed to talk about it yet.). But first, we had to do these awkward on-camera interviews as we walked into the theater. That was so not my thing. I hated it. But, I did get to meet another food blogger there, Nicole of
Baking Bites
. All of these other bloggers are pretty well-known in food blogging world, so it was like meeting celebrities to me since I read all their blogs. I also felt pretty out of place.
After the movie, we walked over to Le Cordon Bleu for a cooking demo, a food styling demo, and an interview with author Julie Powell & actor Chris Messina. (Details of all that is posted
HERE
.)
The highlight for me was meeting Julie Powell. As I've said before, her book
inspired me
to start cooking new recipes and blogging about it. I was absolutely thrilled to get to talk to her. She signed my book (I think I was the one of the only people there who had actually read the book!) and we chatted for a while. I really liked her, even though some of the other food bloggers didn't (more on that later, too!).
I always look like such a goon in these kind of pics!
At the hotel after the event, I took it easy...had a glass of wine in the hotel lounge and digested the day. It was such an experience! Since I wasn't leaving the hotel until the later the next afternoon, I ate breakfast in bed then got a massage & pedicure at the hotel spa (incidentals, indeed!). The "massage garden" is a private outdoor patio. A massage under palm trees and blue skies...so awesome.
For lunch, I walked down to Hollywood & Vine for sushi at
Katsuya, where
they were filleting whole fresh fish right at the sushi bar! It was so good that I'm now ruined; I'll never be able to eat sushi in St. Louis again.
To top the trip off, I got a ride back to the airport in a limo...another thing that made me giggle. I felt kind of silly actually. The flight back was a little more difficult for me. Four xanax and a beer didn't seem to calm me much, especially since there were lots of clouds and bumps and no Victor to provide a distraction...just a dry Boeing guy who didn't seem very happy to be sitting next to a sobbing, shaking girl.
But, I made it home saftely. I am proud of myself for flying alone to make this trip! All in all, this was a once-in-a-lifetime experience for me that held personal, sentimental value. I can't thank Jaden enough for offering it.
And now for the giveaway!
Sony Pictures gave us each a gift bag after the movie, including copies of Julie Powell's novel and Julia Child's
Mastering the Art of French Cooking
(vol. 1), which I'm giving away to one reader!
To win, simply leave a comment here. I'll pick a random winner next Tuesday.