This week's
Tuesdays with Dorie
recipe,
La Palette's Strawberry Tart

, was chosen by Marie of A Year From Oak Cottage. As soon as I saw that it was another tart recipe, I knew I needed to seek help.

You see, I thought the crust on the lemon tart we made in April was too hard. It was my first tart, and I was confused about the dough. Was it supposed to be crumbly? Were you to press it into the pan or roll it out? Why was it so freakin' hard to cut??

So, I took my cookbook to work one day last week to seek help. Anne showed me how to make her recipe for tart dough, a flaky & buttery crust. Soon after that, Dorie herself posted a comment on the TWD website explaining the dough:


Just a quick word on the crust — it can be a bit crisp, especially if you press it down very hard. It's really a cookie crust, and therefore not at all like softer, flaky pie dough, and it's meant to be sturdy enough to stand up on its own when you take it out of the tart pan. My suggestions would be to bake it well (it tastes best when it's well baked because the sugar caramelizes a little) and to make sure to serve it at room temperature. Cut the tart with a serrated knife using a gentle sawing motion and, if it cracks a bit or you get some crumbs, don't worry about it. This is a dessert that's rustic in the extreme.


Dorie's strawberry tart is a simple dessert...an "empty" tart shell, cut into wedges, smeared with jam, and topped with berries.



I topped our crust with guava jelly, strawberries with lime zest & juice, and whipped cream.
I still thought that the flakier crust worked well. Though, it was very delicate...but oh so buttery!


Anne's Tart Crust


1 1/4 cups flour
2 Tbs. sugar
1/4 tsp. salt
½ cup butter
1 egg
Cut the butter into the sugar, flour, and salt until crumbly, but do not overmix. Add the egg and bring the dough together until it forms a ball. Refrigerate for at least 30 minutes. On a floured baking mat or parchment, roll out the dough and fit into an 11" tart pan with a removable bottom. Cover with aluminum foil and fill with pie weights. Bake the crust at 375 for 15-20 or until dry.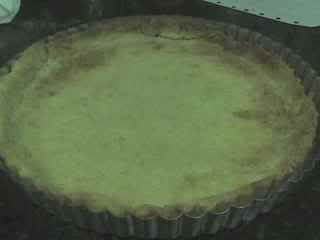 Let the crust cool before slicing, smearing, & filling. Any combination of jam & fruit would work. In fact, I am seriously considering making another with
ginger spread
and peaches!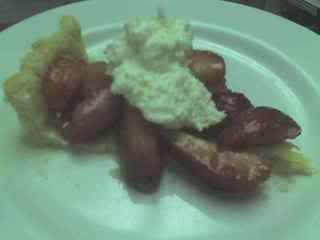 Disclaimer: Please forgive the horrible pics. All I had was my cell phone that day!