For the past seven years, I've been teaching the summer writing camp at the university where I work. It's a 2-week creative writing workshop for kids in grades 3-12. I usually teach the middle school and high school groups. It's a fairly easy gig overall (I sit in a computer lab all day while the groups are busy writing), and the kids--most of whom come to camp summer after summer--are usually pretty creative and fun.
Yesterday, I helped out in recreation while someone else supervised my groups during writing. I had to entertain all of the writing campers while groups of 5 or 6 climbed on the rock wall. I was not prepared to play physical games all day and had to come up with things to do off the top of my head. In the morning, we did some yoga. It was pretty cool that they actually followed along. At the end of the routine, I had them all laying flat on their backs, concentrating on their breathing, in deep relaxation. It was great.
The afternoon, however, was stressful. We played duck-duck-goose, tag, tug-of-war, and dodgeball...aka the game that brings out the worst in people. Even though we were playing with cushy Nerf balls, kids were crying when they got hit. And, they were crying when they didn't get their way. And crying when they supposedly got hurt. I had to get a couple ice packs for stubbed toes and stepped-on-feet.
It was exhausting. So much, in fact, that I actually took a nap when I got home. And today my muscles are sore. My arms and legs ache. I now completely appreciate what the rec teachers do every day. And, I never want to do it again.
Anyway...
Rachel, a friend and colleague of mine, has been not-so-subtly hinting around that she wanted me to bring cookies to camp. So, these treats were for her.
Chocolate & Banana Chip Cookies
Adapted from 101 Cookbooks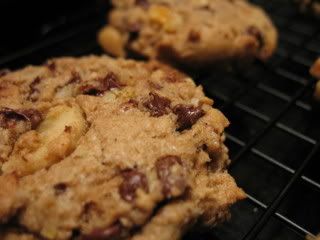 2 1/4 cups whole wheat flour
1/2 teaspoon baking soda
1/2 teaspoon baking powder
1/2 teaspoon kosher salt
3/4 cup (1 1/2 sticks) unsalted butter
1 cup light brown sugar
3 large eggs
2 teaspoons vanilla extract
2/3 cup banana chips, roughly chopped
1 cup mini chocolate chips
2/3 cup toasted walnuts, chopped
Preheat oven to 375 degrees. Line a baking sheet with a silicone baking mat or with parchment paper.
Whisk together the flour, baking soda, baking powder, and salt. Set aside.
In a large bowl, or stand mixer, beat the butter until lightly and fluffy, then beat in the sugar until it is the consistency of a thick frosting. Beat in the eggs one at a time, incorporating each fully before adding the next, and scraping down the sides of the bowl a few times along the way. Stir in the vanilla. Add the flour mixture in two increments, mixing a bit between each addition. Stir in the banana chips, chocolate chips & walnuts, mixing just until everything is evenly distributed.
Drop 1 heaping tablespoon of dough for each cookie onto the prepared baking sheet 2 inches apart. Bake for about 8 minutes, until barely golden on top and bottom. Resist over baking, as they will come out dry and not as tasty. Transfer to a cooling rack.

Make 3 dozen cookies.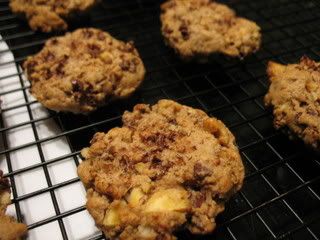 A few notes: I originally tweaked Heidi's recipe just a bit, using whole wheat flour instead of whole wheat pastry flour and wheat germ. The batter was pretty dry, and the cookies didn't spread at all. So, after baking a dozen, I added more butter and another egg to the batter. The cookies then spread a little more and were moister. That's the recipe I've posted above.