The temperature's been in the 90's. While I don't usually crave soup when the weather's warm, I DO crave fresh, healthy, light foods. And this soup really hit the spot last night.
It's the cover recipe from
Super Natural Cooking
by
Heidi Swanson
. You'll be seeing a few more recipes from this book soon, as it's my current favorite.
Spring Minestrone
with Brown Rice


2 tablespoons extra-virgin olive oil
2 shallots (or 1 small white onion), thinly sliced
1 clove garlic, minced
3/4 cup medium-grain brown basmati rice, rinsed
6 cups vegetable (or chicken) stock
1 cup sugar snap or snow peas, trimmed and cut in half diagonally
8 asparagus spears, trimmed and sliced diagonally into i-inch pieces
1/2 cup edamame or green peas, fresh or frozen
salt & pepper
Heat the oil in a large saucepan over medium-high heat, then add the shallots & garlic and saute for a couple of minutes until soft.
Add the rice and cook, stirring, for one minute.
Add the stock and bring to a boil. Cover, lower the heat, & simmer until the rice is just tender, 35-45 minutes.
Add the sugar snap peas, asparagus, and edamame. Season with salt & pepper. Simmer for 2-3 minutes.
Serve immediately while the veggies are still crisp and bright.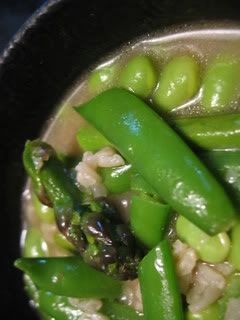 You can add any herbs or seasonings you'd like and top this soup with shredded parmesan cheese or a drizzle of toasted sesame oil.