I made a gargantuan sandwich to take to
Shakespeare in the Park
on Thursday. It was the perfect night, breezy and cool, to sit outside and watch a spectacular production of
The Tragedy of Richard the Third
...and enjoy a feast.
This recipe was inspired by one I saw on
Martha Stewart's website
. I didn't add a dressing, as she suggests, because I didn't want the sandwich to get soggy. Besides, the jarred olive tapanade was moist enough.
And, the leftovers were still okay two days later!
Here's what I did: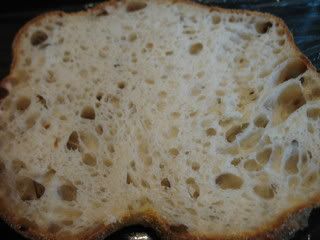 I used a rustic Tuscan loaf from Whole Foods, sliced in half horizontally.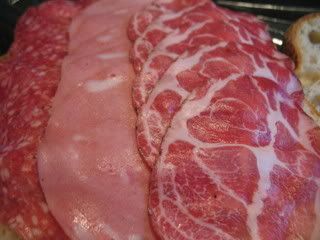 I spread goat cheese on the top half, then topped it a combo of mortadella, capicola, and salami. I actually meant to put this on the bottom half, but it worked just fine this way.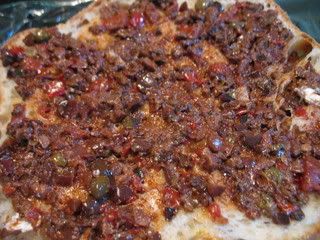 I spread the other half with black olive tapanade.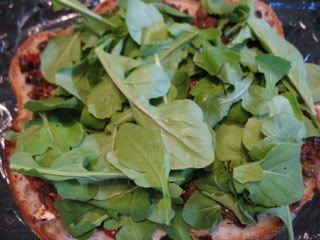 Then, topped it with baby arugula.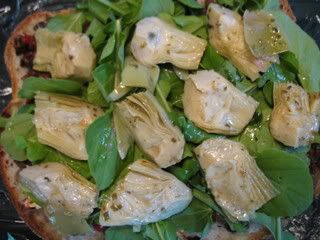 Next came marinated artichoke hearts.
And a roasted red pepper.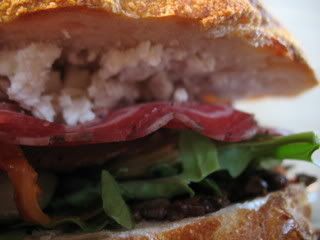 Before pressing...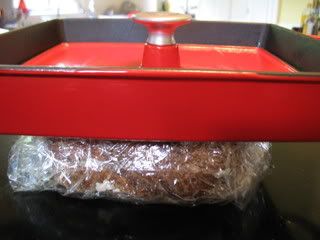 I wrapped the sandwich tightly and put a heavy cast-iron skillet on top. I let that sit until I was ready to go!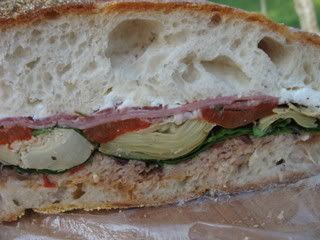 The sandwich was
very
tasty...and the bread held up well. I will definitely make this again!