In his book
The Perfect Scoop,
David Lebovitz explains the difference between French-style and Philadelphia-style ice creams. French-style ice creams are custard-based, made by mixing heated milk, sugar, and cream with egg yolks. They are richer and smoother than Philadelphia-style ice creams, which are made by simply mixing milk or cream with sugar and other ingredients (typically fruit).
The
first ice cream
I made was custard-based, and I wanted to try the other style...and I needed to rescue the rhubard that had been dying in my fridge for a few weeks. So, rhubarb ice cream it was!
Philadelphia-style ice cream is lighter and fluffier than custard creams, and the fruit flavor came forward nicely without all the richness of egg yolks.
This was so good, in fact, that I made two batches! The second one was devoured at camp this morning.
4 stalks rhubarb, about 1 1/4 lbs
1 cup water
3/4 cup sugar
1 cup heavy cream
1 teaspoon vanilla extract
Trim the ends & peel the rhubarb stalks, then chop them into 1/2″ pieces.

Place the pieces in a saucepan with the sugar & water and boil on high heat for about 10-15 minutes, or until the fruit is broken down.
Remove the rhubarb & its liquid from the saucepan and puree in a food processor until smooth. Strain if needed (taste to see if it's stringy). Place the pureed rhubarb in the refrigerator to cool for at least 2 hours.
Add the cream and vanilla to the rhubarb puree & churn in ice cream maker according to manufacturer's directions.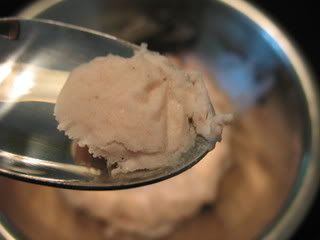 Inspired by
Sugarlaws
&
The Perfect Scoop.