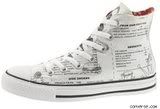 The Chuck Taylor All Star Diner sneakers:
I saw these in an
article
by
Stefani Pollack
on Slashfood, and I just knew I'd have to order them soon! Stef explains that these diner-themed Chucks, which are printed with a retro diner menu, are an "ode to krinkle cut fries and a simpler time." And, they also reminded me of a few other fry-related products I've seen online recently...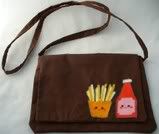 Ketchup & fries tote
: From Etsy, "ketchup and fries are BFFs, and now you can celebrate their friendship by sporting
this purse
."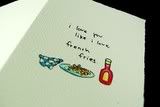 French fry love:
A handmade
greeting card
that says "I love you like I love French fries," also from Etsy.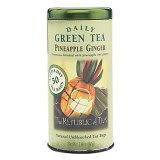 Pineapple Ginger Green Tea:
According to
The Republic of Tea
's website, this tea "helps you simultaneously relax and pay attention." I tried it at
Kitchen Conservatory
one day and loved it!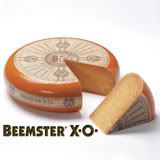 Beemster X.O. Extra Double Aged Gouda:
I've haven't tried this yet, but the description on
igourmet.com
sounds intriguing. "We experienced a moment of culinary divinity when we first sampled this double-aged Gouda. Previously, we doubted that any cheese could be more flavorful than Beemster's 18-month Aged Gouda, but their X.O. indeed sets a new bar. With this 26-month Gouda, we first noticed its delicate, brittle texture. After we tasted it, the flavors of butterscotch permeated the palate, followed by alternating waves of whiskey and pecan." I'm saving my pennies so that I can buy a $16.99 pound.
Blake Makes:
This guy gives away free food on
his site
! Blake recently held a little
contest
; to win a jar of fig & ginger chutney, you had to leave a comment explaining what you'd make with it. I said I'd want to try it as a glaze on slow-cooked spare ribs. And I won! I'm looking forward to getting my chutney on!

Shop 'n Save:
I usually loathe
this
supermarket. It's a leave-things-in-open-boxes-on-the-shelf kind of place where you have to bag your own groceries. I typically avoid it like the plague, but sometimes I stop in because it's the only grocery store between work and home. It's always filled with slow old people who block the aisles and mothers with too many rowdy kids. I get frustrated because I don't know where things are located there.
However
, I've noticed that they carry some interesting products that I can't find elsewhere in town...like soba noodles and great cheeses. So, last weekend I planned my weekly shopping at Shop 'n Save, took my time going through each aisle, and was pleasantly surprised by what I found and how cheap things were!
James Beard quote:
"A gourmet who thinks of calories is like a tart who looks at her watch," from
Margaret's Food Buzz
page.