I have no idea why, but all of a sudden I am obsessed with bento box lunches.
According to
Cooking Cute
, bento "refers to a packaged, single-portion, portable meal that is usually eaten at lunch, but also comes in larger sizes meant for use at picnics, dinner, and parties. A bento generally consists of rice or noodles and some form of protein (
e.g.
, meat, poultry, fish, tofu) accompanied by side dishes of raw, simmered, or pickled vegetables. There are many different types of bento boxes, ranging from traditional handcrafted wooden lacquerware to disposable containers. Most bento boxes have compartments or internal dividers for separate dishes."
I came across a few
pictures
of bento box lunches on Tastespotting, which led me to click around and discover this whole cyber-world of bento packing cooks!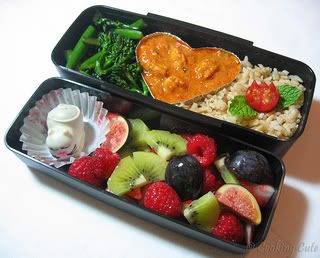 Cooking Cute
has a great list of links and resources.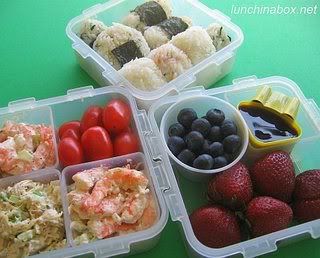 Lunch in a Box
offers tips & techniques for bento fillers.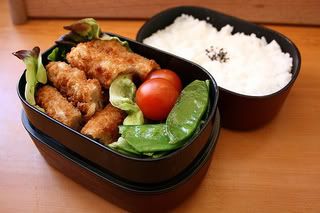 Soy and Pepper
features mouth-watering pics of her
bento love
.
Some people even go as far as to press hard-boiled eggs and rice into hearts, cut veggies into flowers, and decorate their food with pieces of seaweed!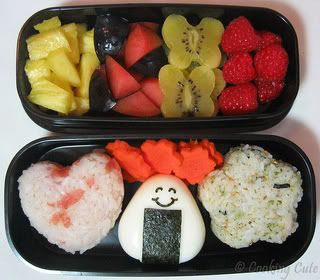 Anyway, I've always been fond of taking lunches in snazzy lunchboxes. In high school, my best friend and I both had these cool tall, rectangular, colorful plastic boxes with long straps. There were three pieces to each box: the top was a thermos, the middle divider held napkins & silverware, and the main compartment was big enough to pack food in.
A few years ago I bought a traditional metal
Frankenstein
themed lunchbox to commemorate earning my MA in English (I wrote my thesis on
Frankenstein
).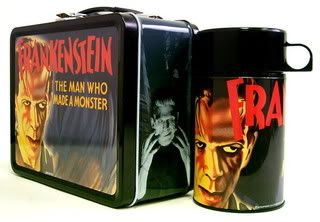 I've decided to take my lunches to work from now on, so as to eat a bit healthier (ie, no fast food), and I love the idea of packing bento boxes!
My first step was to order some boxes. I found a few on ebay that I liked, including two Japanese style boxes: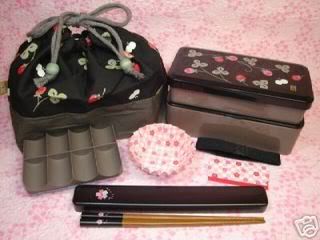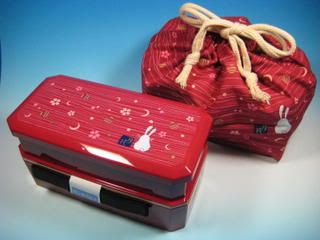 and one Americanized version: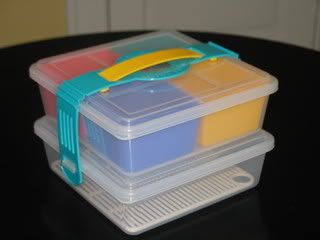 I also liked the Laptop Lunchbox system (available at
Lunchboxes.com
) and the Fit & Fresh containers (available on
Amazon
). In fact, I might order the Fit & Fresh
soup/salad thermos
and possibly the
Breakfast Chiller
. Their
Lunch on the Go
is microwaveable and includes an ice pack.
Since I didn't yet have a real bento box, I improvised the past week by using small Gladware containers inside a larger, heavy plastic containter with a lid (something I already had in my cabinet for storing leftovers in the fridge).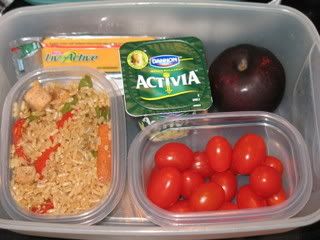 Leftover chicken stirfry, grape tomatoes, cheese, yogurt, & a plum.
Turkey & Laughing Cow cheese on sunflower bread, veggie crisps, carrots, blueberries, & cheese.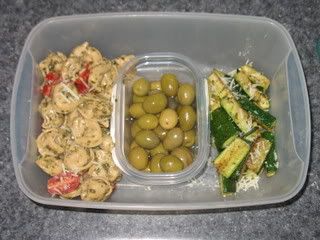 Whole wheat cheese tortellini with tomatoes & pesto, cardamom & cinnamon olives, roasted zucchini with thyme.
Nothing too exciting, but I have some fancy recipes planned for the coming weeks! Look for more bento pics and recipes here soon!