Stef (of
Cupcake Project
) and her husband Jonathan hosted a potluck on Sunday for fellow
St. Louis food bloggers
. It was great meeting everyone and putting faces to blog names! Though, I arrived a bit late--and flustered from road rage--and didn't get a chance to talk to everyone there. I hope we plan another get-together soon!
It was a bit nervous about making something to share with all those great cooks, but I finally decided to bring my
feta bruschetta
(a roasted red pepper, caramelized onion, feta, & fresh oregano spread)...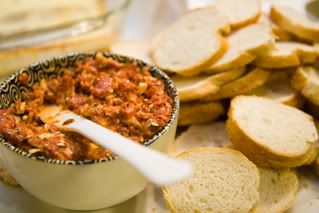 ...and a baked macaroni & cheese. But, this was no basic mac & cheese. It was Tyler's Ultimate Macaroni and Cheese...topped with bacon, peas, and onions: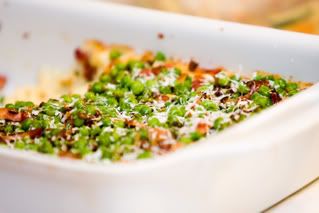 In my search to find the perfect mac & cheese recipe, this one really stands out. The cheese sauce was thick, creamy, and delightfully cheesy. The topping added a nice smokiness.
Since I took this dish with me to St. Louis, it was out of the oven for over an hour before it was eaten. I'd like to make it again sometime to see what it's like fresh out of the oven. It also wasn't as creamy as I'd like (although, are any baked versions all that creamy without using Velvetta??), so I'm curious to see what doubling the cheese sauce would do.
Nevertheless, this had been my favorite mac & cheese recipe so far...and probably my last for a while. Spring is here, and so mac & cheese season is over. *sniff, sniff*
Tyler's Ultimate Macaroni and Cheese
Adapted from
Tyler's Ultimate: Brilliant Simple Food to Make Any Time
Ingredients
1 pound elbow macaroni
3 tablespoons unsalted butter
3 tablespoons all-purpose flour
4 cups milk
5 1/2 cups shredded sharp white cheddar cheese
1/4 cup chopped fresh flat-leaf parsley
4 slices bacon, cut crosswise into think strips
1 large onion, diced
2 garlic cloves, crushed
1/2 teaspoon dried thyme
2 cups frozen peas, thawed in a colander under cool water
salt & pepper
shredded parmesan or mizithra cheese
Directions
Preheat oven to 400.
Bring a pot of salted water to a boil. Add the macaroni & cook 7 minutes or until al dente. Drain & return to pot.
Meanwhile, melt the butter in a large, deep skillet over medium heat. Whisk in the flour and cook for about 1 minute, stirring constantly to keep lumps from forming.
Gradually whisk in the milk and cook, whisking often, until the mixture is smooth and thick.
Stir in 4 cups of cheese until melted. Season with salt & pepper.
Add the cheese sauce & parsley to the cooked macaroni, stir well.
Pour macaroni into a greased 3-quart baking dish and top with remaining cheese.
Bake for 30 minutes or until hot and bubbly.
While the mac's in the oven, cook the bacon, onion, garlic, & thyme in a non-stick skillet--stirring frequently--until the onion is soft and the bacon is crisp. Fold in the peas and season with salt & pepper.
Scatter the pea & bacon mixture over the mac & cheese when it comes out of the oven. Top with a light sprinkling of shredded parm or mizithra or other dry, crumbly cheese (aged gouda would be good, too).
THANKS so much to Jonathan Pollack for allowing me to use the pictures he took that night. You can see more of his pics at
J. Pollack Photography
. Check out his other food pics from the potluck by typing "foodblog" in the access code box in the middle of the page. Seriously...go check them out. They actually made me swoon!