It's time for another round of
Taste & Create
! This month, I was paired with the event's creator... Nicole of
For the Love of Food
. As always, there were so many yummy sounding recipes on her site. I considered
tandoori chicken
,
chili lime honey chicken
,
tropical rice
, &
Buffalo chicken pizza
(which I still plan to make sometime),
paella
, &
vegetable soup with pistou
, but then I saw
her falafel recipe
. I've been wanting to make falafel for a while, and I figured they'd be the perfect thing to take for lunch in one of my new bento boxes!
I altered Nicole's version slightly, using canned garbanzo beans instead of pinto beans, omitting the cilantro (it tastes metallic to me), and not coating them in bread crumbs before frying.
Ingredients:
1 can garbanzo beans, drained
1 big bunch of flat leaf parsley (about 2 handfuls)
1 small onion
1 teaspoon baking powder
4 cloves garlic
2 teaspoons cumin (powder)
2 teaspoons coriander (powder)
1/2 teaspoon paprika
1/2 teaspoon dry oregano [I actually used fresh]
1/4 teaspoon red pepper flakes
1 teaspoon salt
1 cup bread crumbs

Olive oil for frying
Directions:
Place everything but the bread crumbs in a food processor and puree until the dough forms a ball.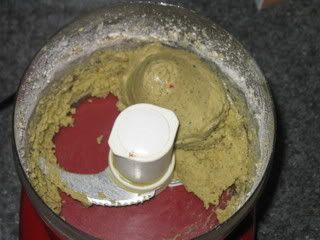 Add the bread crumbs a little bit at a time and pulse until combined. Once it gets a bit harder, Once the mixture is thick enough--not too dry that it crumbles and not too wet that it falls apart--form into patties.

The patties should be slightly moist. Fry in olive oil until golden brown on each side.

I thought the patties seemed a bit too moist in the middle, so I put them in a hot even for a few minutes. Overall, they puffed up nicely and were really flavorful. I will definitely make these again!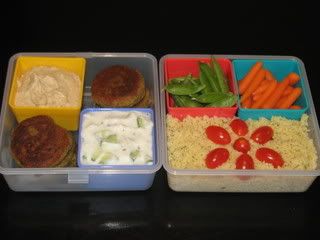 I packed the falafel with hummus, cucumber & yogurt sauce, couscous with tomatoes, carrots & sugar snap peas, and pita.