Show Some Honey Bee Love:
Haagen-Dazs Vanilla Honey Bee
ice cream "blends creamy vanilla with a touch of golden honey. [They've] given this sweet flavor an even sweeter purpose: funding research to protect disappearing honey bee populations. Honey bees play a key role in creating ingredients (almonds, strawberries) used in nearly 40% of [their] flavors. Learn about the honey bee's plight and how you can make a difference
HERE
".
Eat Breakfast, Not Cardboard:
As with snacks, it seems I'm always looking for a healthier cereal that doesn't taste like cardboard or styrofoam packing peanuts (and thus, one that I don't have to coat in sugar). I've liked Kashi cereals in the past (Their
Heart to Heart Honey Toasted Oats
is pretty good) and recently decided to try the
Cinnamon Harvest Organic Promise
cereal. Oh, man, are those good! They have a nice cinnamony flavor and crunchy texture. I've been eating them right from the box. No cardboard here!
On a Whim:
I was in Target, making my way to the checkout lanes when these caught my eye in the much-picked-over summer stuff aisle near the front of the store. They are part of
Whim by Cynthia Rowley,
Target's new line of outdoor games and inflatable pools that are all given Rowley's irreverent touch. They are perfect for my bento lunches! The pink one is a "Divided Lunch Set" that features "1 fork, 1 knife, 1 divided base with lid" (it is divided into three sections, like an old-school lunch tray). The blue one is a "Personal Salad Set" that includes "1 fork, 1 dressing container, 1 bowl with lid." They are good sizes, too, that will hold plenty of food. At only
$2.99 each
, I couldn't pass them up! And, they are microwave & dishwasher safe!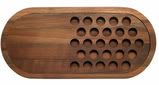 Groovy Bread Boards:
I just think
these
are...well...
groovy
.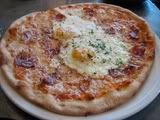 I'll Have Eggs on My Pizza, Not On My Face:
I came across this picture on
Cooking with Amy
and have been slightly obsessed with it every since...mainly due to Amy's description: "When the egg yolks break and ooze over the tomatoey crust, life is good." I'm trying to get my friend Jesse, who is opening
The Stable
(a new microbrewery/pizza place in St. Louis) to put something similar on the new menu. Until then, I'll have to figure out how to do this myself.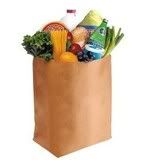 Thursdays are the New Saturdays:
I braved the Shop & Save again yesterday afternoon. I was trying to be patient, but the old ladies who stop their carts in the middle of the aisle and the young mothers who are wearing their pajamas & slippers were getting on my nerves. I was also a bit ticked that they were out of some things I needed, so I'd have to go to Schnuck's anyway. But then, after my groceries had been rung up, the checker said: "With $10 off, your total comes to..." "Why did I get $10 off," I asked. "Because it's Thursday," he explained,
"When you buy $50 or more on Thursdays, you automatically get $10 off."
"Rock on," I say!

A Peach of a Book:
I browsed through the book
How to Pick a Peach
at work on Wednesday. "Equal parts cookbook, agricultural history, chemistry lesson and produce buying guide, this densely packed book is a food-lover's delight. California food writer Russ Parsons begins with a fascinating tale of agribusiness trumping our taste buds en route to supplying year-round on-demand produce, and how farmer's markets are bringing back both appreciation of, and access to, local and seasonal foods. He then takes readers on a delectable season-by-season produce tour, from springtime Artichokes Stuffed with Ham and Pine Nuts to midwinter Candied Citrus Peel, and provides readers with the lowdown on where each fruit or vegetable is grown and how to choose, store and prepare it. Along the way, he detours into low-stress jam making, the chemistry of tomato flavor, a portrait of two peach-growing stars of the Santa Monica farmer's market and why cucumbers make some people burp." I plan to buy it soon!