Once again, I participated in the
They Go Really Well Together
event. This month's ingredients were
pineapple and bleu cheese
.
When I emailed the Port Club members to entice them to make recipes with me again, Sam replied, "Just pineapple and just bleu cheese sounds good to me!"
While I thought of all the things I could do with those two foods (I seriously considered a souffle!), I decided that Sam was right...just pineapple and just bleu cheese would be perfect.
So, I put together a simple snack for us to enjoy with our wine: I filled phyllo tartlette shells (the kind you buy in the frozen foods section) with a slice of fresh pineapple and a crumble of gorgonzola. I zapped it with a brulee torch to slightly melt the cheese and caramelize the pineapple.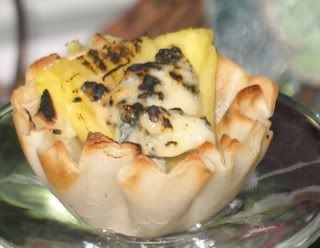 The fire added a pleasing smokiness to the acidic pineapple and the tangy bleu cheese.
Sharon played along and made a delicious bleu cheese cheesecake topped with pineapple pepper jelly to eat with crackers.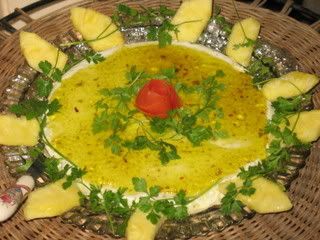 Pineapple and bleu cheese didn't seem like such an odd combination to me, since I've always liked sweet fruit and strong cheese together. I was more curious to find out what kind of wine goes best with this combination. Red wine or port is a classic pairing with bleu cheese, but I had no idea what went with pineapple. I did some research online and discovered that many people suggested a late-harvest riesling. I just happened to have one in my fridge (a Hogue 2006 Late Harvest White Riesling from Columbia Valley), so I took that with me.

All in all, I tried four varietals: a sparkling Bouvay, a late-harvest Riesling, a dry red (I forget which kind; we had several open that night!) and a ruby port.

I liked the Riesling the best, even though I am not typically a sweet-wine drinker. The port was good, also. I thought the Bouvay and red wine were both too acidic for the pineapple.