I must confess. I lied to my friends. I am a fraud, a phony. I am so ashamed.
Last fall, I was desperate to make a from-scratch apple pie. But...when I got around to it, with my bag of apples from the orchard, I chickened out on the crust. I was too scared. Instead, I faked it--or at least tried to--by using frozen pie crusts. I am pretty sure no one was fooled, though no one busted me.
Though a frozen crust isn't all that horrible, my filling was. I used Jonathan apples that were pre-bagged by the orchard (there was no, or sporadic, pick-your-own last summer because of a late spring frost that killed most of the apple blooms), apples that were starting to get mushy. And, I must have cut them too thin...the filling was pretty goopy.
So, I was pretty excited a couple months ago when the
St. Louis food bloggers group
met for a special pie making class at
Kitchen Conservatory
. Unfortunately, at the last minute, I couldn't attend because of frozen pipes. But, when Alanna announced a
Pi Day event
, I decided I had to bite the bullet and make my own crust...finally.
Apple Pie

adapted from Martha Stewart

For the crust:
2 1/2 cups all-purpose flour
1 teaspoon salt
1 teaspoon sugar
1 cup (2 sticks) unsalted butter, chilled and cut into small pieces
1/4 to 1/2 cup ice water
In the bowl of a food processor, combine flour, salt, and sugar. Add butter, and process until the mixture resembles coarse meal, 8 to 10 seconds.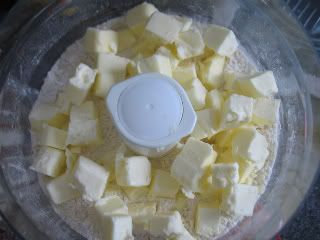 With machine running, add ice water in a slow, steady stream through feed tube. Pulse until dough holds together without being wet or sticky; be careful not to process more than 30 seconds. To test, squeeze a small amount together: If it is crumbly, add more ice water, 1 tablespoon at a time.

Divide dough into two equal balls. Flatten each ball into a disc and wrap in plastic. Transfer to the refrigerator and chill at least 1 hour. Dough may be stored, frozen, up to 1 month.
For the filling:
5 tablespoons all-purpose flour, plus more for work surface
1 large egg yolk
1 tablespoon heavy cream
4 pounds assorted cooking apples, peeled, cored, and cut into 1/4-to 1/2-inch-thick slices
3 tablespoons fresh lemon juice
1/2 cup granulated sugar
1/4 teaspoons ground cinnamon
1/4 teaspoon ground nutmeg
1/4 teaspoon salt
1/4 cup cold (1/2 stick) unsalted butter, cut into 1/2-inch pieces
Sugar, for sprinkling
Preheat oven to 400.


Turn out 1 piece of dough onto a lightly floured work surface. Roll into a 13-inch round, about 1/8 inch thick.
Fit into 9-inch pie plate. Trim edges flush with rim. Refrigerate while making filling.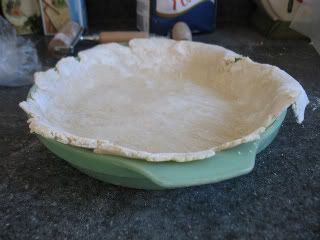 Put apples, lemon juice, granulated sugar, flour, cinnamon, nutmeg, and salt in a large bowl; toss to combine. Fill pie shell with apple mixture, and dot with butter.


Whisk egg yolk and cream in a small bowl; set egg wash aside.
Roll out remaining dough on parchment paper to a 13-inch round, about 1/8 inch thick.


Lightly brush edge of pie with a wet pastry brush. Place dough round on top of pie. Trim edges flush with rim; press to seal. Crimp edges as desired. Make four 1/2-inch slits in center of pie. Brush top with egg wash; sprinkle with sanding sugar.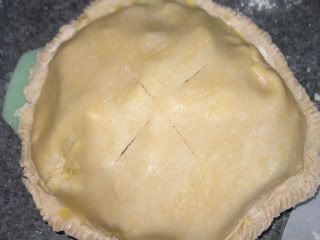 Place pie on a baking sheet. Bake until crust begins to turn golden brown, about 20 minutes. Reduce oven temperature to 350 degrees. Bake until crust is golden brown and juices are bubbling, about 35 minutes. Cover with foil if browning too quickly. Let cool completely on a rack.
Overall, I was pleased with my first attempt at pie dough...though, I don't think it was "tender" enough. I think I pulsed it too much, as there were no visible specks of butter in my flour; I'll try the hand-mixed method suggested by
Anne
next time.
The filling didn't cook enough, even though I left it in the oven longer than the recipe called for. The apples were still pretty crunchy, and there was a bit of watery liquid on the bottom...which made the bottom crust soggy. Next time, I'll cut the apples a bit thinner (I think I went too thick this time!) and add more spices....AND peel them. I'm not sure how I missed that step in the directions!
All in all, though, I am no longer afraid of pie crust...and I can't wait to pick apples this fall!