As a food blog browser, it's easy to notice foodie trends...because everyone is writing about them! Take quinoa for instance. I'd never heard of it before. It's only been in the past few months that I've noticed quinoa recipes popping up all over the world of food blogs.

Of course, since I'd never cooked or eaten quinoa, I immediately put in on my list of "things to try."
First, there is the issue of pronunciation. I had been saying it like "kwin-OH-ah." Come to find out, it's pronounced like "KEEN-wah."
Then, there is the question of classification. What is quinoa exactly? According to
Cookthink
:
Quinoa is a seed that, if not harvested, will sprout a leafy vegetable. While the leaves can be eaten, quinoa is primarily grown for the seeds. A "
pseudo cereal
" native to the
Andes
, quinoa is mild and slightly nutty, with a beautiful, pillowy texture that's a little like couscous.
[...]
Gluten-free, and easy to digest, quinoa has all the goods that grains and seeds are supposed to have (dietary fiber and so on). The real kicker though? Quinoa has the highest protein levels (up to 20%) of all the cereals -- pseudo or otherwise.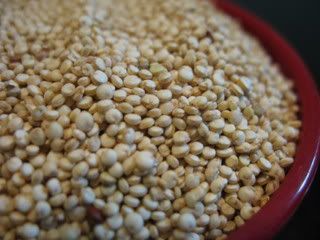 Quinoa is tiny; it reminds me of sesame seeds.
This is only a 1/2 cup measuring cup full.

How to Cook Quinoa
Ingredients:

1/2 cup quinoa

3/4 cup water

1/8 teaspoon salt

1/8 teaspoon black pepper
*Note: Most recipes call for rinsing & draining the quinoa, but I found it to be pretty difficult to do without a very fine mesh strainer. Even then, the quinoa seeds are so tiny...I ended up just making a mess trying to get the wet seeds from the strainer into a pan. So, I started over and didn't rinse. It turned out fine. I would just pick over the quinoa to make sure there isn't anything unappetizer lurking about.
Directions:
In a medium saucepan, combine all the ingredients. Bring to a boil, then cover and reduce to a simmer.

Simmer for about 12 minutes, or the water has been absorbed and the quinoa has puffed, become translucent, and opened (you'll see the curly-q inside).

Remove the pot from the heat and let rest, covered, for about 5 minutes.

Fluff the quinoa with a fork before serving.
breakfast
, prepared like oatmeal with fruit and nuts on top.
For more sweet & savory quinoa recipes, see Heidi Swanson's
101 Cookbooks
.