So, I've never made panzanella...until Tuesday, that is. And, I even have a framed panzanella recipe hanging in my kitchen!

I've been eating lots of raw veggies lately and was looking for something a bit more substantial than the traditional panzanella recipe. So, I made up my own...inspired by a tuna melt sandwich (which I had been craving).
Tuna Melt Panzanella
For the bread cubes:
2 cup day-old bread cubes (I used a baguette)
2-3 tablespoons extra virgin olive oil
1 garlic clove, crushed
salt & pepper
1/2 cup shredded cheddar cheese (I used sharp cheddar)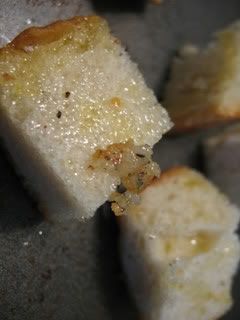 Toss the bread with with the oil, garlic, salt & pepper. Arrange in a single layer on a baking sheet & top with the shredded cheese. Bake at 350 for about 5 minutes, or until the cheese is melted. Remove from oven.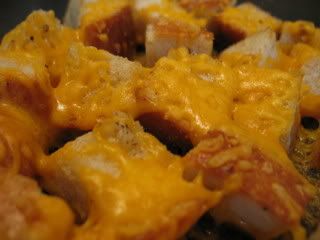 For the salad:
1 can good quality tuna (I used an Italian brand of white albacore packed in olive oil)
1/2 small white onion, diced
1 stalk celery, diced
1 cup grape or cherry tomatoes, halved
1 tablespoon capers
1/8 teaspoon black pepper
2 tablespoons fresh parsley, chopped
1 tablespoon mayonnaise
1 hard boiled egg, peeled & sliced

Mix all ingredients in a large bowl. Add bread cubes. Toss with vinaigrette:
3 tablespoons white wine vinegar
1 tablespoon dijon mustard
1/2 cup extra virgin olive oil
salt & pepper
Whisk vinegar & mustard in a small bowl. Slowly drizzle in olive oil while whisking. Season with salt & pepper.
I finished the salad last night after class, and it was even better the next day. The bread cubes soaked up the flavors but were still crunchy!