Believe it or not, I've never fried chicken. Sure, I've eaten fried chicken. My Grandma Green used to make it...in an electric skillet with tons of melted Crisco. But, I've never made it myself. Neither had Jerad. Jerad, the country boy. How is that possible? Isn't fried chicken some kind of rural requirement? Guess not.
I had always thought fried chicken was difficult and time-consuming to make. Not so! Especially if someone else does it all for you. Last weekend, Jerad voluntereed to make a batch of Rosemary Fried Chicken, a recipe we found in
Everyday Food
. I can't take any credit for this because I did nothing to help prepare the chicken, which was tender, juicy, crispy and flavorful (you could really taste the rosemary). I did, however, make a pot of delicious (if I do say so myself) fresh-from-the-garden beet greens to go with it.
Rosemary Fried Chicken
aka
Make Extra Because This Is So Good You'll Want Leftovers Fried Chicken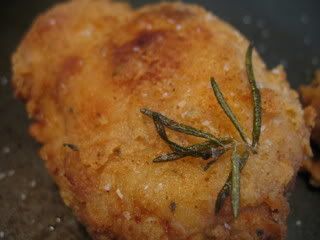 Ingredients
8 chicken legs and 8 chicken thighs (about 3 1/2 pounds total)
2 cups low-fat buttermilk
Coarse salt and ground pepper
3 cups all-purpose flour
2 tablespoons sweet paprika
1 tablespoon finely chopped fresh rosemary leaves, plus 4 sprigs
2 cups vegetable oil, such as safflower
Directions
Preheat oven to 450 degrees, with racks in upper and lower thirds. Line one large rimmed baking sheet with aluminum foil; place a wire rack over a second rimmed baking sheet. In a large bowl, combine chicken, buttermilk, 1 teaspoon salt, and 1/2 teaspoon pepper; set aside (or refrigerate up to 2 days).
In another large bowl, whisk together flour, paprika, chopped rosemary, 1 tablespoon salt, and 2 teaspoons pepper. Lift chicken from buttermilk, a few pieces at a time (allowing excess to drip off), and dredge in flour mixture (shaking off excess); transfer to foil-lined sheet. Dredge chicken in flour mixture a second time; return to sheet.
In a 12-inch cast-iron skillet (or a 5-quart Dutch oven), heat oil and rosemary sprigs over medium-high. When rosemary sizzles rapidly, remove and discard. In three batches, fry chicken until golden brown, 4 to 5 minutes per side; transfer to prepared rack. (If chicken browns too quickly, reduce heat.)
Remove foil; set a rack on that baking sheet. Transfer half the chicken to this empty rack. Bake chicken on both racks until an instant-read thermometer inserted in thickest part of a thigh registers 165, 15 to 20 minutes. Let cool 5 minutes before serving. (To store, let cool, then layer between paper towels; refrigerate up to 1 day. If desired, bring to room temperature before serving.)
Helpful Hint
You don't need a thermometer for the oil -- once the rosemary sprigs are hissing, it's time to add the chicken. Frying time is cut in half by finishing the chicken in the oven.