Charles Perry, of the
Los Angeles Times
, writes:
It had a beautiful aroma. There was something roasted, like coffee or chocolate, then a stronger smell suggesting some fruit (perhaps dried cherries -- or was that coconut?) together with a note of spice: cinnamon, maybe nutmeg.


He is talking about mesquite flour.
I saw a small bag of
mesquite flour
in the back office at
work
last Monday, and I asked what it was for. Kirstin, the manager, said that a sales rep left it for someone to try. I mentioned that I had seen a cookie recipe using mesquite flour, and she said I could take the sample home to play with...then let her know if I thought the store should start selling it.
An assignment!
I had only ever heard of mesquite flour from Heidi Swanson's cookbook
Super Natural Cooking.
. Like most people, when I hear
mesquite
I think of smoky barbeques. So, I thought Heidi's mesquite chocolate chip cookies would have a smoky background, which didn't sound too bad to me. However, I was wrong about mesquite flour.
Through research, I learned that the mesquite we burn in our grills comes from the bark of the mesquite tree. Flour is made from grinding the pods of the tree, which grows in desert regions throughout the world.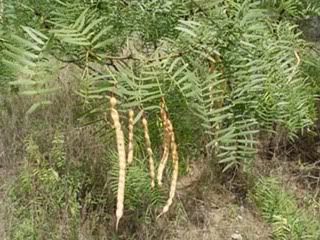 photo from the
National Park Service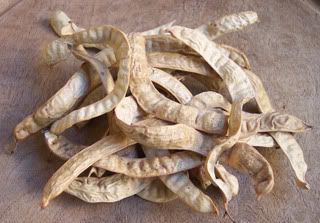 photo from
SpiceLines
According to
Liz DeCleene
, "mesquite is highly effective in balancing blood sugar. The natural sweetness in the pods comes from fructose. Fructose does not require insulin to be metabolized, making it safe for diabetics. The high rate of dietary fiber (pods are 25% fiber) causes the nutrients in mesquite to be absorbed slowly, preventing the spikes and valleys in blood sugar. With a glycemic index of 25, mesquire requires a longer time to digest then many grains. The digestive time for mesquite is 4 to 6 hours, unlike wheat which digests in 1 to 2 hours. These factors result in a food that maintains a constant blood sugar for a sustained time and as a result prevents hunger. [...] Further, this food delivers a big hit of nutritional value. It is high in dietary fiber and protein including lysine. The ground pods are between 11% and 17% protein. Mesquite is also a good source of calcium, magnesium, potassium, iron, and zinc." It is gluten-free and low in carbohydrates & fat, too!
Mesquite flour is kind of sweet, kind of chocolately, kind of nutty, kind of cinnamony, kind of nutmegy, kind of...well...hard to explain. It's used not as a flour exactly, but more of a seasoning; though, it can be substituted for part of the flour in a recipe. A little bit of the stuff goes a long way.

Apparently, mesquite flour is difficult to find but highly sought after.
David Lebovitz
couldn't find it in Paris, and when he eventually bought some in Texas, the cashier exclaimed, "Oh! I bet you're going to make those chocolate chip cookies!"
Mesquite Chocolate Chip Cookies
adapted from
Heidi Swanson's recipe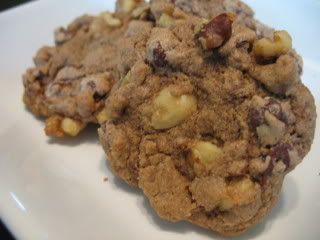 Ingredients
1 1/4 cups whole-wheat pastry flour
1/2 cup mesquite flour, sifted if clumpy
1/2 teaspoon baking soda
1/2 teaspoon baking powder
1/4 teaspoon salt
1/2 cup unsalted butter, room temperature
1 cup sugar
2 large eggs
1/2 tablespoon vanilla extract
1 1/4 cups semisweet chocolate chips
1/2 cup chopped walnuts
Directions
Preheat oven to 375.

Whisk together the flours, baking soda, baking powder, and salt in a bowl. Set aside.
In a large bowl, beat the butter until light and fluffy. Beat in sugar until thick.
Beat in the eggs one at a time, scraping down the sides in between.

Add the dry ingredients 1/3 at a time.
Stir in the chocolate chips and nuts.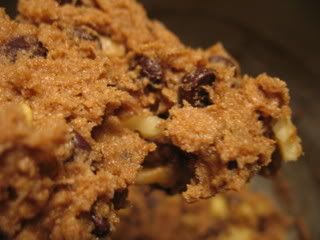 Drop by tablespoons onto baking sheets covered with parchment or silicone mat. Bake for about 10 minutes until golden brown on top and bottom. Heidi warns, "Don't overbake these; if anything, underbake them."
Cool in wire racks.
Makes about 2 dozen.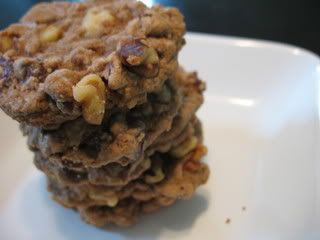 Here's how else you can use mesquite flour:
Add 1 teaspoon to 1 stick of softened butter to spread on toast, muffins, scones, or baked sweet potatoes.
Add 1/2 tablespoon to banana, strawberry, raspberry, or peach smoothies (will help prevent mid-morning hunger!)
Sprinkle 1/4 teaspoon on oatmeal.
Add to pancake, muffin, cake, and cornbread batter.
Add to rub seasoning mixes and breading.
Use to season chicken, pork, beef, seafood, stir-fries, & soups.
Make mesquite ice cream.
Add to salad dressing.

Other mesquite flour recipes:
Basic yellow mesquite cake
Skillet cornbread
Citrus mesquite spareribs
Mesquite almond shrimp
Mesquite flour tortillas
Mesquite brownies & other cookie recipes
Mesquite sugar cookies
Snack bars
Mesquite apple nut muffins & oatmeal raisin cookies
Pancakes, zucchini bread, banana bread, flan, and more!
More recipes