This is kind of a funky looking dish...white and red pillows with flecks of black seeds and green leaves. But, my oh my, is it delicious! And so easy! I whipped up a batch between classes for dinner yesterday, and I am planning to make more for dinner tonight!
I used four small, garden-fresh beets & basil that I got from the farmers market. I bought a bunch of basil a week ago Saturday, and it's still very fresh! I simply trimmed the ends of the basil when I got home and set the bunch in a tall glass of water. I leave the basil on the counter, not in the fridge. I change the water every couple of days, and the basil is still fresh & green!

Beet Ravioli with Poppy Seed Butter & Basil
adapted from
Bon Appetit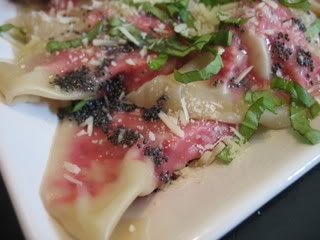 2 large (or four small) red beets, rinsed clean
1/2 cup whole-milk ricotta cheese
2 tablespoons dried breadcrumbs
20 wonton wrappers
salt & pepper
1/4 teaspoon dried thyme
1 garlic clove, crushed
1/4 cup (1/2 stick) butter
1 teaspoon poppy seeds
shredded Parmesan cheese (about 1/4 cup)
fresh basil (about 6 leaves)
Preheat oven to 400°F. Wrap beets individually in foil; place on baking sheet. Roast until tender when pierced with knife, about 45 minutes to 1 hour (depending on the size of your beets). Open foil carefully (steam will escape). Cool for about 15 minutes. Peel beets; finely grate into medium bowl.
Add ricotta cheese. Stir in breadcrumbs, thyme, & garlic. Season to taste with salt & pepper.
Place 8 wonton wrappers on work surface, keeping remaining wrappers covered with plastic or a damp towel. Place small bowl of water next to work surface. Spoon 1 teaspoon beet filling onto middle of each wrapper.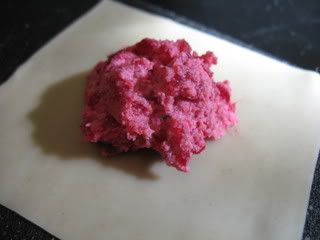 Dip fingertip into water and dampen edges of wrapper. Fold dough into a triangle over filling, pushing out as much air as possible and pressing edges firmly to seal (I used a fork to crimp the edges). Be careful, though, to not pierce to wrapper...you don't want the filling leaking out during boiling! NOTE: Ravioli can be prepared 1 week ahead. Transfer to rimmed baking sheet and place in freezer until frozen solid, about 6 hours. Transfer ravioli to resealable plastic bags.
Melt butter in small skillet over medium heat and stir in poppy seeds; keep warm.
Working in batches, cook ravioli in large pot of boiling salted water until cooked through, stirring often, about 2 minutes. Using slotted spoon, transfer to a serving platter. Top with melted butter sauce, parmesan, and shredded basil.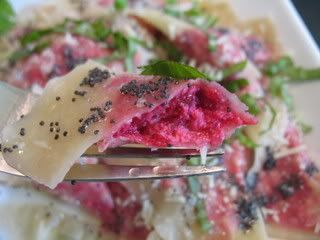 I'm submitting this recipe to
Archana's Kitchen
for this week's edition of
Weekend Herb Blogging
. Speaking of...I'm actually hosting WHB next week (details soon!).