I have...well,
had
...sour cherries coming out the ying-yang since I bought some at the farmers market
and
Jerad's dad gave me several pounds from their tree. I've made
cherry braid
, cherry pie (posting on Tuesday!), and for dinner last night...

Tilapia with Cherry Salsa


recipe from
Everyday Food


The recipe calls for bing cherries, but I used sour cherries and added about a teaspoon of sugar. It was still pretty sour, especially with the added lime juice, so I added a few squirts of light agave nectar as well. If you're not using bing cherries, I suggest you sweeten and taste as desired. In the end, this was really good...refreshing and fresh and pretty! I plan to use the leftover salsa on grilled chicken.


Ingredients
1 tablespoon olive oil
1/2 pound (2 cups) Bing cherries, pitted and coarsely chopped
1/2 small red onion, finely chopped
1/2 cup fresh cilantro (or parsley), chopped
1 jalapeno, minced
1 tablespoon fresh lime juice
Coarse salt and pepper
1/2 teaspoon coriander
4 tilapia fillets – 4 to 6 ounces each
Directions
In a medium bowl, combine cherries, onion, cilantro, jalapeno and lime juice. Season with salt and pepper and toss to combine. Set salsa aside.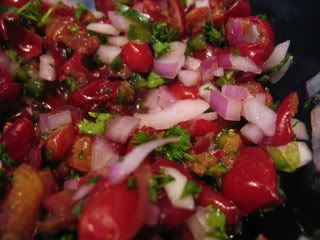 In a small bowl, stir together coriander, 1 teaspoon salt and 1/4 teaspoon pepper. Rub tilapia all over with oil; sprinkle with spice mixture.
Grill or saute tilapia until opaque around the edges and underside loosens easily from grill or pan, 2-3 minutes. Using a metal spatula with a thin blade, flip fish; continue to cook until opaque throughout about 2-3 minutes. Serve topped with salsa.