I bought a quart of gorgeous, huge blackberries at the farmers' market on Saturday. Even at $7.50, I couldn't resist them.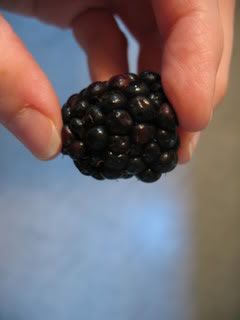 But then came the decision of what to do with those gorgeous, huge blackberries. I considered cobbler (this week's
Tuesdays with Dorie
recipe), a white chocolate pie, & cheesecake. But, the weather the past few days has been too hot to bake.
It's that infamous mid-western heat wave...a muggy, humid, sticky kind of hot that makes it hard to breathe outside. It seems even more stifling because we've had a fairly mild summer so far. It JUST got hot, and now it's too hot to cook, to clean, or to move off the couch...because my upstairs AC (the only central air in this big, old house) is running overtime and barely keeping up. Therefore, not only is it unbearably hot outside, but it's also pretty dang uncomfortable inside, too.
So last night I used the gorgeous, huge blackberries to make a cooling sorbet...an easy recipe that only requires a few pulses on the food processor, a quick strain, and then some spoon lifts.
adapted from
Perfect Scoop
4 cups blackberries (fresh or frozen but thawed)
1 cup water
1/3 cup sugar (I reduced it from 2/3 because my berries were particularly sweet)
2 teaspoons freshly squeezed lemon juice
Puree the blackberries, water, & sugar in a food processor or blender. Press the mixture through a strainer to remove the seeds. Stir in the lemon juice.
Pour the mixture in an ice cream maker and chill according to the manufacturer's instructions. (I have the Cuisinart 1-1/2-Quart Automatic Ice Cream Maker, and it took about 20 minutes for the mixture to freeze into a thick, luscious dessert.)