So, I have a new obsession...artisan salumi and salsiccia.
You see, I already have a weakness for cured meats (mmm...bacon). Then, in May I read an
article
in
The St. Louis Post Dispatch
about Mark Sanfilippo, philosophy major turned
screenwriter
(I totally want to read the
Varsity Demon Cheerleader
script!), turned pizza-maker (at one of Mario Batali's
restaurants
), turned charcuterie expert.
photo from
The Post Dispatch
Mark recently started
Salume Beddu
, a company in which he offers "artisan salumi in a traditional Italian fashion
(
Salumi is the Italian term that encompasses all salted and cured pork products), fresh Italian Salsiccia (sausages) and seasonal Italian specialty items." He is currently selling his products at the Tower Grove Farmers' Market in St. Louis.

So far, I've tried the

Salsiccia Fiama

, "a spicy fresh sausage with notes of fennel, pepper, and smoked Spanish paprika" and the

Soppressata Siciliano

, "a rustic salame with red chile, garlic, toasted fennel and red wine."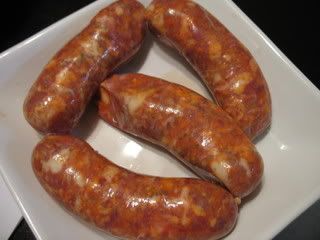 I cooked the spicy Italian sausage by browning it it a skillet over low heat with a bit of olive oil, as Mark suggests. I then cut it into bite-sized pieces and ate it (with my fingers) with cheeses, fruit, bread, and wine. This sausage has quite a kick, spicy indeed...but very tasty.

The salumi was offered sliced thin. Though not spicy like the sausages, it also had good flavor. It was a tasty addition to the cheese & fruit platter as well.
I'm just so excited to be able to purchase these artisan meats. It's nice to know that they are made with fresh, local ingredients. I'm looking forward to trying the different kinds of salumi as they become available throughout the year (see the Salume Beddu
website
for details).
Oh, and, Mark will be teaching a cooking class at
Kitchen Conservatory
on November 8. It will be a hand-on class on how to cook with sausage, including making pasta sauces. Can't wait!