I've been really into the whole cooking/blogging community, reading several different blogs each week. Over the weekend, I came across Culinate's
Death by Chocolate
contest. And I thought, "What the hell, I'll give it a go!"
Here's the deal. By voting, you and I could BOTH win trips to Napa Valley! Cool, huh? You see, Culinate will send one reader AND one blogger to the
Copia Center's
annual
Death by Chocolate Festival
.
You can vote for me by clicking the icon above (you will have to register first, so that you are entered into the contest, too!).
When thinking about what to make, I decided on a flourless cake because I'd never made a flourless cake before. While researching recipes & techniques, I decided that I wanted to add dry red wine to the batter because red wine is my favorite thing to pair with chocolate. The dry fruitiness of wine goes so well with the bitter sweetness of chocolate. I decided to top the cake with a sweet and savory ganache that I saw recently on
Martha Stewart's website
.
I also chose this recipe because--my god--the cake calls for 2 sticks of butter, a pound of chocolate, and 8 eggs while the ganache is made with 9 ounces of chocolate and a cup of heavy cream. If ever there was a "death by chocolate," this would be the cause!
So, without further adieu, here it is..
.


Flourless Chocolate & Red Wine Cake with Chocolate Rosemary Ganache.

For the cake, you'll need:

2 sticks unsalted butter, cut into 1/2 inch cubes.

1 pound semisweet chocolate, chopped.
1/4 cup dry red wine (I used Gnarly Head Old Vine Zin).
8 large eggs.
1/4 cup sugar.
1 teaspoon vanilla.
1/2 teaspoon salt.

Preheat oven to 325.

Grease a 9-inch springform pan. Cover bottom & sides with foil and set in roasting pan.


Combine chocolate, butter, & wine in a metal bowl over simmering water. Stir constantly until melted & smooth. Set aside.

Combine eggs, sugar, vanilla, & salt in the bowl of an electric mixer. Beat until frothy & doubled in size, about 5 minutes.


Fold 1/3 of the chocolate into the egg mixture until combined. Repeat with another third, and then the final third.

Pour the batter into the prepared springform pan. Add boiling water into the roasting pan to come 1/2 way up the springform.


Bake until slightly risen & the edges are set, about 25-20 minutes.

Remove from roasting pan & cool springform on wire rack.

When cool, remove cake from springform.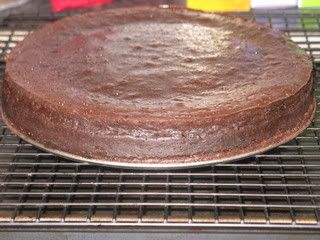 For the ganache, you'll need:
9 ounces bittersweet chocolate, chopped.
1 cup heavy cream.
2 tablespoons fresh rosemary needles.
Place chocolate in medium bowl.
Warm cream & rosemary in a saucepan on low. Bring just to a boil, then strain over chocolate.
Cover the bowl with foil for 5 minutes.
Stir to melt.
Pour over cake.