Another snowy morning yesterday, another warming breakfast.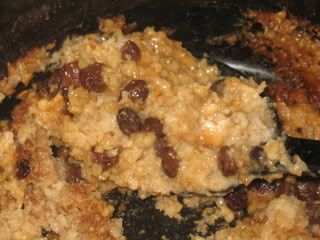 Steel cut oats cooked overnight in a crockpot with brown sugar, cinnamon, vanilla, & dried fruit results in a creamy, tender oatmeal...no crunchiness left at all! So delicious...you must eat this soon!
Ingredients
1 cup steel cut oats (not instant or rolled oats)
3-4 cups water, depending on how long the oatmeal will cook
1/2 tsp. cinnamon
1/4 cup brown sugar
1/2 tsp. vanilla
1/4 cup raisins
1/4 cup dried cranberries
1/2 cup walnuts halves
Spray crockpot with nonstick cooking spray. If you're planning to cook the oatmeal 8 hours or longer, use 4 cups of water. If you want to cook it less than 8 hours, use 3 cups of water.
Put all ingredients except nuts in slow cooker, cover, and cook on low overnight.
Just before serving, stir in walnuts & a splash of milk (if desired).
Of course, you could add any flavorings or fruits you wanted to. Fresh chopped apples would be good, as would dried blueberries or apricots...maybe some coconut. And you could top a bowl with sliced bananas, a drizzle of honey or maple syrup...the possibilities are endless!