Taste & Create
is "a gathering point for the food-blogger community to come and have their recipes tested by their peers." Each participant is given a food blogging partner. Everyone then has to cook one recipe on their partner's blog & blog about it themselves
For my first month participating, I was paired up with Chris & Lisa from
We [heart] Food
. These two seem to be very adventurous chefs, and I had a hard time deciding what to make from all their
yummy looking
dishes. At first, I considered the chipotle bean burgers, because I had already bookmarked that page. The seafood meatballs were tempting, too. However, I finally decided on the
lahmajoun
(Aremenian meat pies) because it was an ambitious recipe that would force me to [finally!] make dough.
I was really nervous about the making dough part, as I have no confidence in my baking skills and all previous attempts at dough-like foods have resulted in disaster. As I was kneading the dough, I kept thinking of how I'm always reading about how making dough is such a soothing activity. Not so! Kneading dough for just 10 minutes sucked ass! It was hard! The dough was firm, not the soft, pliable dough I expected. I was worried that I was doing something wrong, that it wouldn't rise correctly, and that I wouldn't have the promised meat pies for my guests. So, I came up with a "Plan B" in case I screwed it all up...making patties or balls with the meat mixture, then shoving them into pita bread with some cucumber sauce (which, I think, would still be pretty tasty!).
However, I was so impressed with my results, that I may attempt [gasp]
bread
soon! Dough isn't so hard after all!
Anyway, these meat pies involve rolling the dough (after mixing, kneading, and rising for 2 hours) into thin circles, topping each with an herby, spicy meat mixture, then baking until crisp. I served them with a cucumber/dill/yogurt sauce similar to the salad Chris & Lisa posted.
Kelly says:
I can't believe how good these turned out! Yeah, me!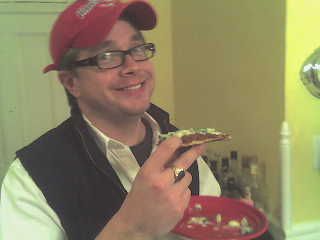 Jesse says:
Mmm, these are really good. The meat is so flavorful.
Jerad says:
Yeah, and it actually tastes better with the cucumber stuff on it...and I don't even like cucumbers--or dill--usually!
Sara says:
There is a lot of meat left over; you could make meatballs with it!
Jerad says:
Or meatloaf.
Kelly says:
Meatloaf, schmeatloaf, double beatloaf.
Jerad says:
Meat pie, schmeat pie, double beatpie.
Sara says:
Taste the meat pie. Smell the meat pie. Sense the meat pie. Love the meat pie.
Kelly says:
We should write an ode to meat pies.
Jesse says:
Yeah, and it would begin with "An Ode to Meat Pies, I love thee so. You are so crunchy, with your dough."
Ingredients
For the dough:
1 cup warm water
1 package active dry yeast
1/4 tsp sugar
3 cups all-purpose flour
1 tsp salt
2 1/2 tbsp olive oil
For the meat topping:
2 tbsp olive oil
3 medium onions, finely chopped
1 1/2 lbs lean ground beef (or lamb)
2 large tomatoes (seeded & chopped)
3 tbsp tomato paste
1/3 cup flat-leaf parsley, finely chopped
2 tbsp mint, finely chopped
1/4 cup pine nuts, lightly toasted
1 tbsp pomegranate molasses (reduce unsweetened pomegranate juice)
1 tbsp freshly squeezed lemon juice
1/2 tsp allspice
1/4 tsp cinnamon
1/4 tsp coriander
1/4 tsp cloves
1/4 tsp cumin
salt, pepper, and red pepper to taste
Directions
To make the dough: Pour 1/2 cup of the water into a small bowl and sprinkle it with the yeast and sugar. Let the mixture stand about 3 minutes, then stir to dissolve the yeast completely. Place the bowl in a warm, draft-free place for 5 minutes or until the mixture becomes foamy.
In a large bowl combine the flour and salt. Make a well in the center and add the remaining 1/2 cup water, the yeast mixture, and the oil. Blend the mixture until it forms a dough.
Turn the dough out onto a floured surface and knead about 10 minutes or until smooth and elastic, sprinkling with just enough additional flour, if necessary, to keep it from sticking. Transfer the dough to a lightly oiled bowl, turning to coat with the oil. Cover loosely with a kitchen towel and let stand in a warm, draft-free place for 1 to 1 1/2 hours or until doubled in size.
Meanwhile, prepare the meat topping: In a medium heavy skillet heat the oil over moderate heat. Add the onions and cook, stirring frequently, until soft but not browned. Remove from the heat and set aside.
In a large mixing bowl combine the meat, tomatoes, and tomato paste and mix well.
Add the parsley, mint, and pine nuts, pomegranate molasses, lemon juice, mixed spices, salt, pepper, & red pepper.
Drain the onions of oil and add to the meat mixture.
Knead the mixture until it is thoroughly blended. Divide into 16 equal portions and set aside.
Punch down the dough and divide into 16 equal pieces. Form each piece into a smooth ball and arrange the balls 2 inches apart on a lightly floured board. Cover with a kitchen towel and let rest for 15 minutes.
On a lightly floured surface roll out each of the balls into a circle that is no more than 1/8" thick. Arrange the circles slightly apart on large, lightly greased baking sheets.
Top each circle with a portion of the meat mixture, spreading evenly to the edge. Bake the pies in a preheated 450 degree oven for 10 minutes or until lightly browned.
Kelly says:
I think these would be really good with some cheese (feta!) on top or mixed in with the meat.