Cocoa & Parmesan are the theme ingredients for the
They Go Really Well Together #9
event. According to Robert of
lamiacucina
, this month's host, this event challenges you to "create a recipe that pairs two (or three) ingredients that are not usually seen together. The theory is that if two ingredients have chemical compounds in common, then they should go well together in a recipe. With the blogging event we get to put the theory in practice."
I was talking about this event one day, and it evolved into a little battle, Iron Chef style. That is, I challenged the winery Port Club members to a Parmesan & cocoa throwdown. Three of us brought our creations to the winery last night and let the others (plus a couple customers & some people from the restaurant across the street) choose a winner.
After considering several different recipes (chocolate ravioli with pumpkin filling & a Parmesan-sage butter sauce, chocolate-dipped Parmesan crisps, chocolate shortbread topped with Parmesan chunks & balsamic syrup, cheese coins dusted with cocoa, Parmesan risotto with cocoa nibs), I finally decided on
Cocoa-Nibby Parmesan Biscotti.
I originally wanted to use plain cocoa nibs, roasted cocoa beans that have been separated from their husks and broken into small bits. But, I could only find dark chocolate-covered nibs. No worries, though, as that seemed to work out just fine!
Here is the recipe I used, inspired by
Gourmet
magazine's
Parmesan Black-pepper Biscotti
...
Ingredients:
4 cups all-purpose flour.
2 teaspoons baking powder.
2 teaspoons salt.
4 tablespoons dark chocolate-covered cocoa nibs.
2 1/4 cups (4 1/2 oz) Parmigiano-Reggiano, finely grated
(buck up and get the real stuff!).

1 1/2 sticks cold unsalted butter, cut into 1/2-inch cubes.
4 eggs.
1 cup whole milk.
Preheat oven to 350.

Mix flour, baking powder, salt, nibs, & 2 cups cheese in stand-mixer with paddle attachment.
Add in butter & mix until it resembles coarse meal.

I did this with my hands to break up the big chunks of butter.

Whisk 3 eggs & the milk in a separate bowl, then add to flour and mix until combined.
Tip dough onto a lightly floured surface, knead just to bring it all together, & divide into 4 equal pieces.
Shape each piece into a log. Transfer to an ungreased baking sheet.
Whisk the remaining egg & brush over the logs. Sprinkle them with the remaining 1/4 cup of cheese.
Bake for about 30 minutes, or until lightly golden brown and firm.
Remove from oven & cool logs on rack for 10 minutes. Lower oven heat to 300.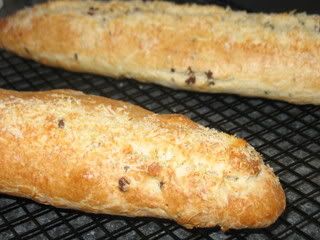 Cut the logs into slices on the diagonal. Put them back on the baking sheet, with cut side down, and bake at 300--turning over once--until golden & crispy (about 35-45 minutes).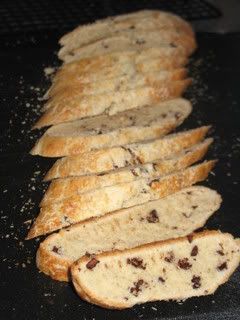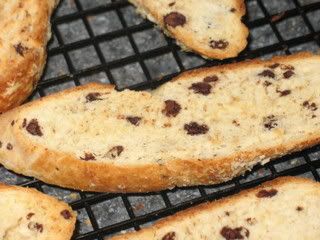 You could really taste the Parmesan in this biscotti, which were a bit softer in texture than traditional biscotti, and the cocoa nibs added a pleasing hint of sweetness.
Jerad made
Chocolate-Parmesan Popcorn
, a simple recipe made by tossing popped corn with grated cheese and melted bittersweet chocolate & butter, a delightfully salty-sweet treat: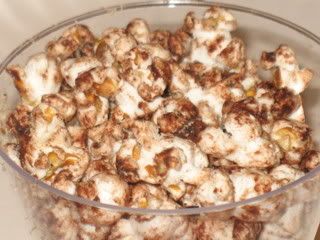 Sharon made
Chocolate-Dipped Parmesan Toasts
, which were ultra-buttery and really delicious: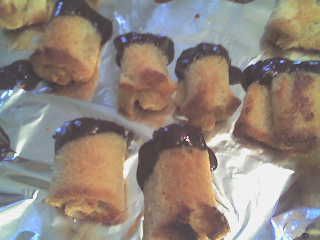 There were 8 judges who awarded points for use of theme ingredients, originality, taste, and appearance. Out of 96 total points, Sharon was the winner with 86 points! She blew us all away with a recipe that she came up on a whim!