While the
roasted chicken
was a bust, the side dishes I made last night were excellent.
First, I roasted thick potato wedges--coated with olive oil, salt, & garlic pepper--in the oven at 375 for an hour (turning after 30 minutes). They were crisp on the outside and fluffy on the inside. Perfect.
I also made a recipe I'd been wanting to try from Nigel Slater's
Kitchen Diaries
:
Baked Onions with Parmesan and Cream
.
Of this recipe, Slater writes, "I normally eat these deeply savory baked onions as a side-dish to cold roast beef, and that is probably when they are at their best. But today I have them with a plainly roasted chicken and it is quite one of the most splendid meals I can remember."
Here's what I did:
Set the oven to 375.
Peel some large white onions. (I would use one onion per person.)
Bring the onions to a boil in a deep pot of water. Let them simmer for about 25 minutes, until tender. Lift them out with a slotted spoon.
Slice the onions in half from root to tip, then put them cut-side down in an oven-safe dish.
Pour heavy cream over the onions (Use 1 1/4 cups for four whole onions.)
Season with salt, pepper, dried thyme, and a "good handful" of grated Parmesan.
Bake for 25-30 minutes, until golden and bubbling.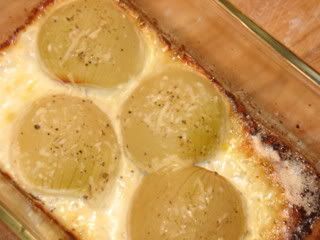 I'd never eaten onions as their own dish. In the oven, they become soft and sweet...a delightful contrast to the richness of the cream and cheese. (Now that I am writing about food, I feel the need to use words like
delightful
.)
I will definitely make this dish again! And because I like it so much, I am sending it to
Radhi's Kitchen
as my entry for the
Jihva for Ingredients
event (the theme is onions!) she's hosting this month.