I just finished reading Julia Child's autobiography
My Life in France
. I didn't think I would like it, because I kind of think she's annoying. I always wondered what the big deal was with Julia Child. However, now that I've read her book, I get it. She was one amazing woman!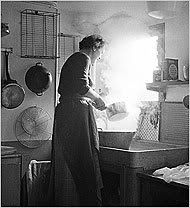 What I find so inspiring about her is that she was 36 when she and her husband moved to Paris, where she learned to cook at the famed Cordon Bleu cooking school. After her graduation, she and two of her friends began teaching their own cooking classes. Together, they wrote
Mastering The Art of French Cooking
, the first publication in either French or English to feature classic French recipes.

I was inspired most by Julia's passion. She absolutely loved France and the food there. She was determined to create a masterpiece of a cookbook, testing each and every recipe diligently and lovingly.
My own passion for cooking borders on obsession. In fact, a friend recently pleaded with me to "please stop talking about food" and asked me if all I thought about was cooking. The answer is YES. When I go to sleep at night, I drift off thinking about recipes I could make. I read through cookbooks so fast the pages smoke.
Julia had a similar appetite for cooking and learning, which--along with unwavering support from her husband and friends--lead to a career of successful cookbookery, television shows, and a cult-like following.
So, in honor of Julia Child--and since I had a whole day off--I made Boeuf Bourguignon...which is Frenchy-speak for beef in red wine sauce (aka Beef Burgundy).
I learned from the
Eggs Sardou
disaster
that it is essential to use fresh ingredients and to take the time to prepare them correctly. So, I took 2 days to cook this stew.
I started by making
beef stock
Sunday night...the
easiest
beef stock! I roasted four soup bones and a couple onions, carrots, & garlic cloves in the oven (at 350) with a little olive oil, salt & pepper for 30 minutes, turning the bones after 15 minutes. All of this then went into the crockpot with celery, peppercorns, bay leaves, rosemary, thyme, salt, & enough water to almost cover everything. I set the crockpot on low and let it simmer overnight (at least 12 hours).
In the morning, I strained the stock (saving the tender beef for open-faced sandwiches later!) & let the stock sit so that the fat came to the top. I spooned off as much grease as I could before I used the stock.
Beef Bourguignon
(recipe adapted from Ina Garten's
Barefoot in Paris
)
Why, you might be asking yourself, didn't she use Julia Child's recipe?
Well, to be quite honest, her recipes are very dense and step-intensive. I did lots of research and decided that Ina's recipe is very close to Julia's original but seems to be a bit updated.
You'll need:
1 tablespoon olive oil
8 ounces good bacon, diced (I used Schnuck's brand thick-cut bacon, which is surprisingly delicious!)
2 1/2 pounds beef chuck, cut into 1-inch cubes
kosher salt & freshly ground black pepper
1 pound carrots, sliced diagonally into 1-inch chunks
2 yellow onions, sliced
2 teaspoons chopped garlic (2 cloves)
1 (750-ml) bottle of good dry red wine, such as Burgundy (I used Smoking Loon Cabernet Sauvignon,

not

the Decoy as pictured)
2 1/2 cups beef stock
1 tablespoon tomato paste
1 teaspoon thyme
2 tablespoons unsalted butter, at room temperature
3 tablespoons all-purpose flour
1 pound frozen small whole onions
1 pound white mushrooms, stems discarded, caps thickly sliced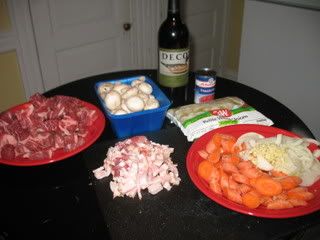 Directions:
Preheat the oven to 250 degrees.
Heat the olive oil in a large Dutch oven. Add the bacon and cook over medium heat, stirring occasionally, until the bacon is lightly browned (about 10 minutes). Remove the bacon with a slotted spoon.
Make sure the beef is dry, then sprinkle with salt & pepper. In single-layer batches, brown the meat on all sides in the hot bacon grease (about 5 minutes). Remove to a plate until all the bacon is seared.
Toss the carrots, sliced onions, 1 tablespoon salt, & 2 teaspoons pepper into the same pan and cook until the onions are lightly browned (about 10 minutes). Add the garlic and cook 1 more minute.
FIRE HAZARD NOTE: At this point, Ina says to add a 1/2 cup of Cognac or brandy, "
stand back
, and ignite with a match." I didn't want to buy an entire bottle of cognac for this--and I didn't think to get a couple airplane bottles--so I had planned to just skip this step. However, as I was cooking I wondered if this was a crucial step in the bourguignon process, and I worried about leaving it out. Since I didn't have either cognac or brandy, I decided to use bourbon. I turned off the flame, poured in the liquor,
stood back
, and lit a match. The fumes instantly ignited and shot up way passed the microwave over the stove. I screamed and tried to blow out the flames. Bad idea. They whooshed even higher! I finally had enough sense to put the lid on the pan. Whew! (I am guessing that bourbon has a higher alcohol content than cognac, which accounts for the scary flameage and awful burning stench.)
So, skip that part if you don't want to burn your house down.
Next, put the meat and bacon (with their juices) back into the pot. Add the wine (yep, the
whole
bottle) and beef stock (add more stock if needed to almost cover the meat). Add the tomato paste and thyme. Bring to a boil, cover the pot with a tight-fitting lid, and place in the oven for 1 1/4 hours (or until the meat and veggies are very tender when pierced with a fork). Remove from the oven & place on the stove.
Combine the flour with about 1 tablespoon of water to form a thin paste & stir it into the stew. Add the frozen onions.
In a medium skillet, saute the mushrooms in the butter for about 10 minutes. Add to stew.
Bring the stew to a boil, then lower the heat and simmer uncovered for 15 minutes. Season to taste (I added a bit more salt, pepper, & thyme).
Serve with crusty French bread (a must!) or boiled potatoes (the classic accompaniment), and a glass of red wine. I also had a salad of baby greens, pears, walnuts, feta, lemon juice, balsamic syrup, & pepper with mine!
All in all, I think Julia (and Ina) would be proud.