Last Saturday, I went to a sushi party with some of the winery people. I made
miso soup
& the sushi rice while Jerad and Ian rolled some delicious and beautiful sushi!
I did the shopping for the party, and after a trip to Bob's Seafood in St. Louis, I came back with tuna, crab, and shrimp. So, we made a variety of rolls...including spicy tuna, spicy crab, & shrimp tempura rolls. We rolled the seafood with avocado, asparagus, and green apple. The tuna-topped roll is drizzled with balsamic syrup (my idea!):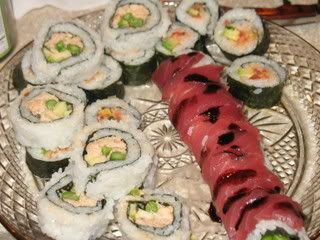 The spicy sauce is simply a mixture of mayo and sambal (or Thai chili sauce) to taste with sliced green onions.

Spicy Crab with Asparagus & Green Apple
Miso Soup (for 4)

Bring 6 cups of water to a simmer.

Soak 3 tablespoons of wakame (a dried seaweed) in cold water for 10 minutes. Then, add the drained wakame to the water & simmer for 1 minute. Turn off heat.

Dissolve 3-4 tablespoons of miso paste in some of the broth, then add it to the pot. Allow to seep briefly before serving.

Add a few sliced scallions & diced soft tofu to each bowl and spoon some of the soup on top. Add a few dashes of soy, if desired.

NOTE: I used "Hacho Miso", a dark brown paste that made the soup richer & meatier tasting than the kind you get in restaurants.