Here are some new toys I've gotten for my kitchen over the past several months:
Mario Batali Panini Grill & Press, Chianti

Lodge Logic 5-Quart Pre-Seasoned Dutch Oven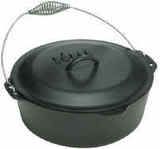 Circulon Elite 8- and 10-Inch Open Deep Skillets, 2-Pack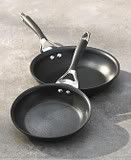 Wine Table

Triangle Serving Plates

Three-Tier Serving Bowls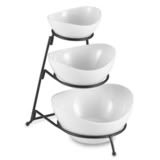 Three-Tier Serving Trays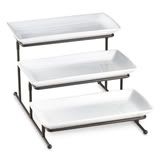 I christened the panini pan recently during an afternoon of sandwich experimentation. I made ham & swiss panini with buttered Texas Toast, with French bread, and with a sandwich roll. The buttered bread didn't really work, because the bread stuck to the pan, broke open on the bottom, leaked melted cheese. The roll was also a bit too soft. I think the crustier French bread worked the best. Next time, I'll try getting the pan & lid
really
hot, wrapping the sandwich in foil, then letting it cook under the lid until it's done...no flipping, no sticking.
Look for Cuban sandwich recipes in the next month or so. I plan to make soups, stews, & even bread in the dutch oven, too!