Yesterday, I signed divorce papers. And iced a carrot cake I had baked the night before.
One thing destroyed. One thing created.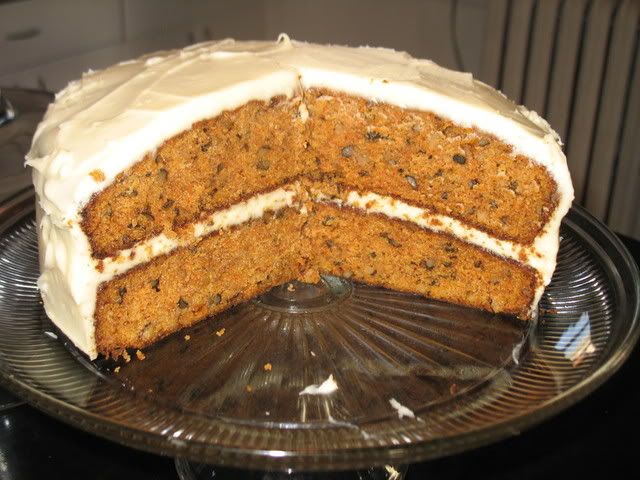 Carrot Cake with Maple Cream Cheese Frosting


2 cups all-purpose flour
2 teaspoons baking soda
1 teaspoon salt
1 teaspoon cinnamon
1 teaspoon ground ginger
2 cups sugar
1 1/4 cups canola oil
4 eggs
3 cups peeled, grated carrots
1 1/3 cups chopped walnuts
Preheat oven to 350.
Butter & flour two 8 or 9-inch round cake pans.
Mix flour, baking soda, salt, cinnamon, & ginger in a bowl.
In another bowl, whisk sugar & oil. Add the eggs, one at a time. Then, gradually add flour mixture.
Stir in carrots & nuts. Pour into prepared pans.
Bake 30-40 minutes, or until a toothpick inserted into the center comes out clean. Cool 15 minutes in pan before removing cakes to a cooling rack. Cool completely before icing.
Maple Cream Cheese Frosting
16 ounces cream cheese, room temperature
1 stick butter, room temperature
1 1/2 cups powdered sugar
1/2 cup maple syrup (use the "real" stuff)
Beat cheese & butter together. Add sugar, mix well. Add syrup.