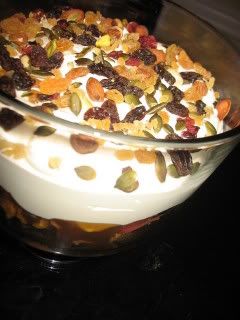 Layers of aromatic cake, fruit, caramel, custard, & nuts inspired by Catherynne M. Valente's
The Orphan's Tales
books, this is my entry for
A Recipe From the Crease of my Right Eye
, a food blogging event from
Habeas Brulee
.
According to
Danielle
, "the food and spice imagery in these books is inspiring. Not only does the boy steal food from the Sultan's palace to bring to the girl, but the imagery infuses the rest of the stories as well. [...] In the second book, the basilisk lives in a grove of persimmon and coconut, a girl dances in shoes made of cinnamon, and Ajanabh, the city of spice, is filled with a spice-smog, 'the faintest sigh of cardamom and cumin and cinnamon breathing through the night.' It is filled with quail eggs and cinnamon candies, rose and leek sandwiches, sugar pies and lamb fat. And more, and more. "
With this imagery in mind, I decided to make something seasonal and full of spice...something to help use up all that
gingerbread syrup
.
So, here it is...my first entry into a blogger's cooking challenge...my very own recipe, which I invented specifically for this contest, for
SPICED PEAR & CARAMEL TRIFLE
...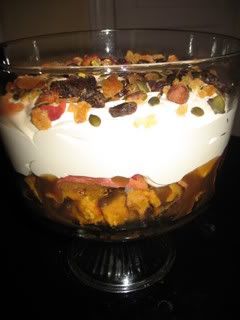 INGREDIENTS
For the pumpkin cake:
2 cups all-purpose flour
1/2 teaspoon baking soda
1/2 teaspoon baking powder
1 tablespoon pumpkin-pie spice
2 teaspoons gingerbread syrup
1/4 teaspoon kosher salt
1/2 cup unsalted butter, room temperature
1 cup sugar
1 large egg
15 ounces (1 can) pure pumpkin puree
For the caramel & pears:
½ cup + 1 tablespoon butter
3/4 cup dark brown sugar
1/4 cup heavy cream
4 red pears (halved, cored, & sliced)
1/2 teaspoon cinnamon
1/2 teaspoon sugar
3 tablespoons spiced rum
For the custard:
2 egg yolks
1/3 cup sugar
3 tablespoons gingerbread syrup
8 ounces mascarpone cheese
8 ounces heavy cream, whipped
For the topping:
1/4 cup mixed nuts (I used almonds, hazelnuts, pistachios, & pumpkin seeds)
1/4 cup dried fruits (I used cranberries, raisins, & golden raisins)
1/2 tablespoon candied ginger, finely chopped.
DIRECTIONS
Make the cake:
1. Preheat oven to 375 degrees.
2. In a medium bowl, whisk together flour, baking soda, baking powder, pumpkin-pie spice, and salt; set aside.
3. In another bowl, beat together butter and sugar until light and fluffy. Add egg; beat until smooth. With mixer on low speed, alternately add half of the flour mixture, then all of the pumpkin puree, then the rest of the flour mixture; mix just until combined (do not overmix).
4. Pour into a 9x9 baking dish & bake for 15-20 minutes.
5. Remove from oven & let cool.
6. Cut into bite-sized pieces.
Make the caramel:
1. In a medium saucepan, melt brown sugar & ½ cup butter over medium-low heat, whisking often.
2. When melted & smooth, stir in heavy cream.
3. Remove from heat & let cool to room temperature.
Make the pears:
1. Melt 1 tablespoon butter in large non-stick skillet over medium heat.
2. Add pears & cook about 10 minutes, until warmed through but not mushy.
3. Sprinkle cinnamon & sugar over, stir.
4. Turn off the heat & pour in spiced rum, stir.
5. Let cool to room temperature.
Make the custard:
1. Blend yolks & sugar until light & fluffy.
2. Add gingerbread syrup.
3. Add mascarpone & blend until smooth.
4. Fold in whipped cream.
5. Refrigerate until ready to assemble trifle.
Assemble the trifle:
1. In a trifle bowl, place 3 cups of cubed pumpkin cake.
2. Top with pears & their liquid.
3. Pour over 2/3 cup (or up to 1 cup, if desired) caramel.
4. Layer in custard.
5. Sprinkle nuts, fruit, & ginger on top.