I've been doing much research in
my quest
for the perfect mac-n-cheese, including browsing through all my cookbooks for recipes, purchasing a new
all macaroni & cheese cookbook
, and comparing numerous recipes online.
Most of the recipes I've found for baked mac-n-cheese are made with either a bechamel sauce or Velvetta cheese. While I plan to try a bechamel-based dish eventually, that's not what I am in the mood for. Instead, I've been looking for a recipe more that which my Grandma Green used to make.
You see, each year for the holidays (Christmas & Easter), Grandma would make the same meal...Italian sausages from the local butcher, ham, baked mac-n-cheese, potato salad, and "pink salad."
Let me explain this "pink salad": It's a strawberry jello/cream cheese/whipped cream thing that I can't stand to eat. However, at some point, Grandma got the impression that I LOVED the pink salad. And so, at every holiday, Grandma made it just for me (much like that dreaded
Easter lamb cake
). She even wrote out
the recipe
for me when I got married. After so many years of her thinking that I liked the pink stuff, I would take a small spoonful of it with my dinner so as not to hurt my grandmother's.
Anyway, Granny's mac-n-cheese wasn't very saucy & creamy; it was more of a stringy cheesy, almost dry, kind of thing...with lots of black pepper. So, when recently I came across Gael Greene's
Almost Like Mom's Macaroni and Cheese
recipe in her book
Insatiable
, I decided to try it out.
Greene writes: "This is a recipe food-writer friends have been passing around—I got it from Arthur Schwartz (a passionate New Yorker), who got it from Suzanne Hamlin (an ultimate southerner). I am using it here because it's close to my memory of my Detroit-born mom's baked macaroni.
The goal is crisp, not creamy.
Use half-and-half instead of milk if you like it creamier." [emphasis mine]
There seems to be quite a history behind this particular recipe, which
Schwartz
calls "the mother of macaroni and cheese recipes." It seems to derive from 1950's version served in school cafeterias. Schwartz's version calls for butter instead of olive oil, an addition of finely minced onion, & melted butter stirred into the bread crumb mixture.
Here's how I made it today:
Almost like Grandma's Baked Mac & Cheese
You'll need:
1/2 pound small elbow macaroni.
1 tablespoon olive oil (or butter)
1 tablespoon salt.
2 1/2 cups shredded white cheddar cheese.
1 cup 2% milk.
1 1/2 teaspoon kosher salt.
1 teaspoon freshly ground pepper.
1/2 teaspoon garlic powder.
4 tablespoons bread crumbs.
1/4 cup grated Parmesan cheese.
Directions:
1. Preheat oven to 350° F.
2. Spray the bottom and sides of a baking dish* (one that can go under the boiler) with cooking spray.
3. Cook macaroni in boiling, salted water until just tender. Drain well.
4. Immediately turn the macaroni into the baking dish. Toss with olive oil. Then add cheese, milk, salt, pepper, and garlic powder. Mix well.
5. Bake in the oven for 10 minutes, then remove from oven and stir. Sprinkle bread crumbs and parm on top. Bake another 15 minutes.
6. If topping has not browned and crisped to your liking, drizzle the top with a tablespoon or so of olive oil and bake another 5 minutes.
7. If still not sufficiently browned and crisped, stick it under the broiler. DON'T WALK AWAY TO QUICKLY CHECK YOUR EMAIL, because after just a
few
seconds the top will be well-done.
8. Curse, quickly remove pan from boiler, & scrap off any burnt crumbs.
* Greene suggests using a flat (as opposed to a loaf pan) metal pan for added crispiness. I used an oval stoneware casserole dish.
THE VERDICT: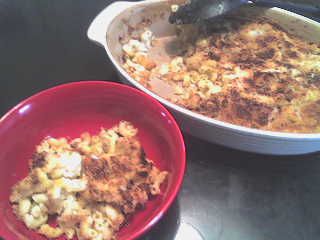 The pictures suck, but the macaroni was pretty damn good! Not exactly like Granny's, but similar in texture...not creamy as I imagine bechamel or Velvetta versions to be. The crumb topping created a satisfying crunch when I spooned some out, but next time I'll use less of it as it was a bit distracting.