I had this grand plan to make 12 different cookie recipes this year. But that didn't work as I had hoped. I simply didn't have time to make that many cookies, and thank god...I still have cookies left from the 4 batches I did bake!
I started with
Martha Stewart's
Pumpkin Cookies
, because I had two cans of pumpkin puree in my pantry and I had no idea why. Did I plan to make a pumpkin pie for Thanksgiving, then completely forgot about it? I haven't a clue.
Is 34 too young to be going senile?
Nevertheless, December 13th was a cold day (32 degrees!) and in an attempt to avoid grading papers, I began my Christmas baking.
I adapted Martha's recipe slightly, increasing the pumpkin pie spice to one tablespoon and adding a couple teaspoons of gingerbread syrup. The batter tasted just like pumpkin pie filling.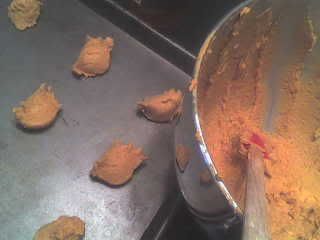 Instead of drizzling the finished cookies with chocolate, like the recipe calls for (I was too lazy to deal with melted chocolate), I sprinkled them with cinnamon & sugar before baking.
They turned out soft & cakey, but not my favorite. Though, I did use them for the cake layer in my
Spiced Pear & Caramel Trifle
.
Next, I made my
Grandma Martin's Chocolate Nut Drops
. I've made these in the past, but they never turn out like hers. They were too cakey and dry. After looking through my recipe box, I found Grandma's own typed recipe card. I was using butter instead of shortening and cocoa powder instead of melted chocolate. So, I tried these cookies again.
There was one problem, however. Her recipe is a little vague. It calls for "2 squares of melted chocolate" but doesn't say how much those two squares are or what kind of chocolate. I guessed and chose German chocolate, which wasn't right. As soon as I opened the package, I knew those squares were too small. (I've since learned that I should have used baker's unsweetened chocolate, which comes in individually wrapped 1 ounce squares).
The cookies were better this time, a texture and taste more like Grandma's cookies.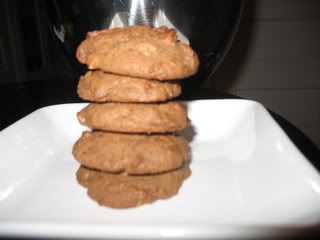 A few days later, I made press cookies at my friends' second annual cookie baking party. My Grandma Green always made these kind of cookies; green christmas trees with sprinkles were my favorite. I bought a
cookie press
several year ago and always use the recipe for
Classic Spritz Cookies
that came with it...a recipe that calls for 3 sticks of butter!
We had fun all taking turns shooting the cookie gun. We made the green trees with sprinkles, white snowflakes with red & white peppermint spinkles, wreaths, leaves, and hearts.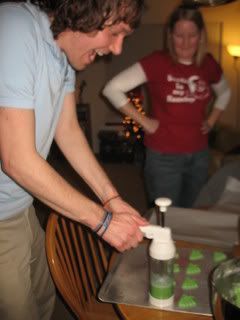 Slop having a go with the gun.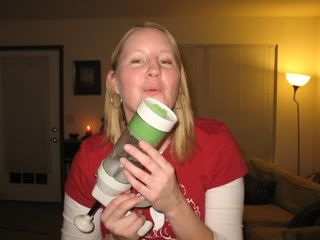 I'm dangerous with a trigger.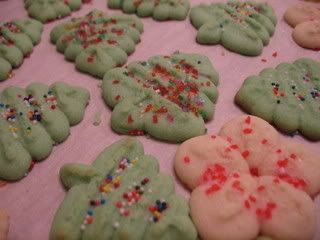 Decorative & Delicious!
Lindy's first ever batch of cookies: Peanut Butter Oatmeal.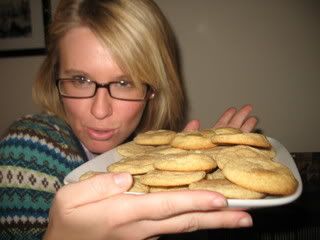 Erin's sexy Snickerdoodles.
Finally, I baked some
Lavender Faerie Cookies
, a recipe my friend Sue gave me a few years ago. Sue actually introduced me to the joy that is eating lavender. She adds it to her "better butter" (equal parts olive oil & butter) that she uses every day.
If you've never eaten lavender-laced food, you must try it. I like lavender mixed with melted butter and used as a dip for steamed artichokes. It's also very good on roasted asparagus.
Anyway, these cookies were very delicate and fragrant. My friend Margaret called them "startling". They go excellently with hot chocolate & even with red wine.