Question: Is wild rice supposed to be crunchy?
I recently saw this recipe in Ina Garten's new book and wanted to try it right away, thinking it would be the perfect winter (or Thanksgiving) side dish. I followed the directions, but the rice was still pretty crunchy. It wasn't tender at all
.
I also thought this dish was way too salty; it calls for mixing 1 teaspoon in to the finished rice. It was too much. I couldn't even eat it.
Overall, I was very disappoint with this...even though it sounds so good! Any suggestions to make it better?

Orange Pecan Wild Rice
from
Barefoot Contessa: Back to Basics
by Ina Garten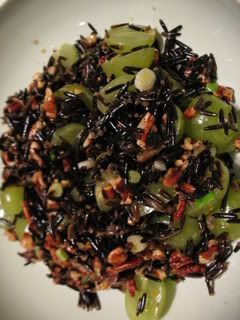 1 cup wild rice
1 1/4 cups chicken stock, preferably homemade
2 tablespoons unsalted butter
Kosher salt
1 cup seedless green grapes, halved
1/2 cup scallions, sliced in rounds, white and light green parts (2 scallions)
1 cup pecan halves, toasted and coarsely chopped
1 teaspoon grated orange zest
2 tablespoons freshly squeezed orange juice

1 teaspoon freshly ground black pepper
Place the rice, chicken stock, 1 1/4 cups water, 1 tablespoon butter, and 1 teaspoon salt in a medium saucepan and bring to a boil over medium heat.

Cover the pot and lower the heat to simmer and cook for about 1 hour, until the rice is tender and the grains begin to burst open. Stir the rice occasionally while it's cooking, scraping the bottom of the pan to prevent it from sticking.

Turn off the heat and allow the rice to steam for about 5 minutes.

Stir the remaining tablespoon of butter into the rice, then add the grapes, scallions, pecans, orange zest, orange juice, 1 teaspoon salt, and the pepper and toss well.

Taste for seasonings and serve hot.