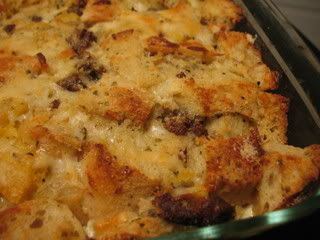 I came home from work on Thursday, cold and tired, not wanting to cook a big meal. Instead, I threw a bunch of stuff together (an acorn squash that was expiring on the counter, some stale crusty bread in the fridge, breakfast sausage), poured it in a casserole dish, and baked it until it was golden and crunchy.
The result:
Savory Acorn Squash & Sausage Bread Pudding
This made for a satisfying dinner & a quick breakfast of leftovers.
It would be a good alternative to dressing/stuffing with Thanksgiving dinner, too.

4 cups crusty bread, cut into 1-inch cubes (stale is better)
1 cup peeled & diced acorn squash (or butternut squash), roasted
8 ounces country (or Italian) sausage, browned
1 small yellow onion, diced
1 clove garlic, minced
2 large eggs
2 cups whole milk
1 cup shredded mozzarella cheese
1/2 cup grated Parmesan cheese
1/2 tablespoon dried oregano (or thyme or fresh rosemary)
salt & pepper
Prepare the squash by tossing the cubes in olive oil, salt, & pepper. Roast in a 400 degree oven for about 15 minutes, or until just tender.

Meanwhile, put the bread into a large bowl.
Saute the onions & garlic in a bit of olive oil until soft. Add the onions & the cooked sausage to the bread. When the squash is done, add it as well. Mix in the mozzarella cheese, too.

Season with salt, pepper, & oregano
Mix the eggs with 1 cups of milk. Stir that into the bread mixture.

Pour the bread mixture into a butter casserole dish. I used an 8-inch, square dish.
Pour the additional 1 cup of milk evenly over the bread. Top with the Parmesan.
Bake at 350 degrees for about 45-minutes, or until the top is golden brown and crunchy.