I am verging on a cookbook addiction. It doesn't help, of course, that I work at a place which sells cookbooks. In an effort to curb my addiction, I've decided to start making recipes from the books I have before buying any more.
I bought Clotilde Dusoulier's
Chocolate & Zucchini
--a beautiful, fun book based on her
blog
--a while ago, but hadn't yet made any of the recipes. One, however, was always on my mind. The chorizo, tomato, & pistachio "cake" seemed the perfect thing to snack on with a glass of wine. So, when I was invited to a trivia contest last night, I decided to bake a loaf to take with me.
The original recipe calls for Spanich chorizo, a spicy dried sausage that's similar to pepperoni. I used Mexican chorizo, which is much easier to find, that I cooked in a skillet before adding to the batter.
And, since I can't seem to find shelled pistachios at any of my local grocery stores, I used pine nuts instead.

Chorizo, Tomato, & Pine Nut Cake
Adapted from
Chocolate & Zucchini
by Clotilde Dusoulier
1 tablespoon unsalted butter

2 tablespoons sesame seeds
1 1/4 cups unbleached AP flour
1 tablespoon baking powder
3 large eggs

1/2 teaspoon kosher salt
1/2 teaspoon black pepper
1/4 cup extra virgin olive oil

1/2 cup buttermilk (or plain, whole-milk yogurt)
3 1/2 ounces Mexican chorizo, cooked.

12 sun-dried tomato halves, packed in oil, finely diced
3/4 cup pine nuts, toasted
1/4 cup chopped flat-leaf parsley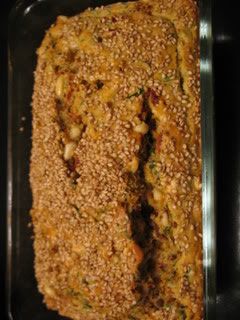 Preheat the oven to 350F.
Butter a 9-inch loaf pan and sprinkle in 1 tablespoon of the sesame seeds, tilting the pan to distribute them.
In a small bowl, whisk together the flour, baking powder, salt, and pepper.
In a medium bowl, mix together the eggs, salt, and pepper. Add the oil and buttermilk .
Sift the dry ingredients into the egg mixture, stirring until barely incorporated. Don't overmix.
Gently fold in the chorizo, tomatoes, pine nuts, and parsley.

Scrape the batter into the prepared pan, smooth the top, and sprinkle with the remaining sesame seeds.
Bake for 40 to 50 minutes, until a knife inserted into the center comes out clean. Let cool for 15 minutes, then run a knife around the edge of the pan to get out the loaf.

Slice when cool.

This is really important! My loaf was still warm--hot, really--when I sliced it and it was very crumbly!