I was invited to a friend's house for margaritas and girl-talk today, so I used some of the produce I got at the farmers market
yesterday
in a dish to take along.
I didn't really follow a recipe here; I just sort of improvised as I went. The result was a rich and flavorful gratin that was a festive color!



Ingredients:
6 purple potatoes, sliced
6 ramps, bulbs & stems only, diced
fresh herbed goat cheese, crumbled
1 pint heavy cream
1 cup shredded mozzarella & parmesan cheese
salt & pepper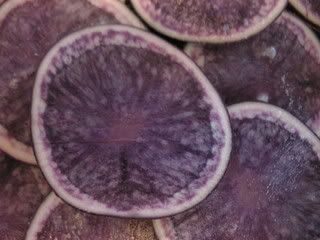 Directions:
Butter a baking dish. Arrange potato slices in one layer. Top with 2 sliced ramps, some crumbled goat cheese, salt & pepper. Repeat layering until potatoes are all used. Pour in enough cream to just about cover all the potatoes (but you don't want them swimming in cream). Top with shredded cheeses. Cover with foil and bake at 350 until the potatoes are tender. Remove foil to brown cheese.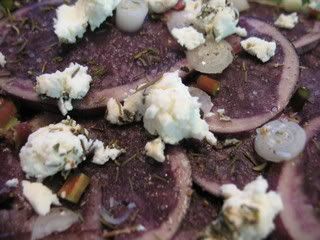 If you're not using herbed goat cheese, then sprinkle in some chopped herbs (thyme or rosemary would be nice) with the salt & pepper. I used a mild Herbs de Provence goat cheese, and the subtle hint of lavender was very tasty.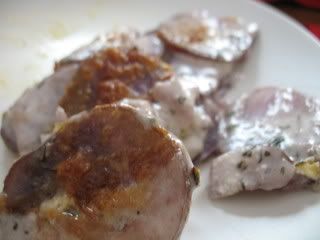 THANKS to
Alanna
for the free
"Fresh & Local"
icons!