Cookbook author Diana Kennedy, who has been referred to as the "Julia Child of Mexican cuisine," was in St. Louis recently. While here, she taught a couple classes at
Kitchen Conservatory
. I was working while she was teaching the Saturday morning class, so I was able to ease drop on her instruction.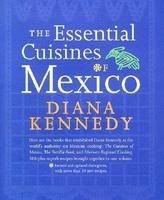 While I didn't get to eat a lot of the foods that Mrs. Kennedy made that day, I did get a bite of the traditional "dry soup" from central Mexico, a recipe from her book
The Essential Cuisines of Mexico.
It's basically a noodle dish in which the pasta is first browned in oil, then baked in the oven with stock. I liked it right away; it reminded me of the rice pilaf my great-aunt Anna Mae used to make for every holiday and family function.
I bought that cookbook and vowed to make the dish sometime very soon. That sometime soon was Thursday.
The dish took longer to prepare than Kennedy's recipe, but I was very happy with the end result. It was absolutely delicious with pan-roasted chicken and avocado slices.
This dish is very rustic; Diana called it "Mexican comfort food" and said you'd never find it being served in a restaurant in Mexico. Still, it's a pretty dish...since the noodles are browned while in their nest shapes, some of the pasta gets very dark while the middles stay a lighter shade of yellow.
Sopa Seca de Fideo
My slight adaptation
1/4 cup vegetable oil

(Kennedy loathes canola oil but approves of sunflower oil)

8 ounces angel hair pasta

(use the kind that comes in nests)

1 pound (about 3 cups) tomatoes, roughly chopped.

(Question from audience: "Are you using roma tomatoes?" Answer from Diana Kennedy: "Is there any other kind?")

2 tablespoons

white

onion, roughly chopped
1 garlic clove, roughly chopped
32 ounces (4 cups) chicken broth

sea

salt to taste
4 chipotle chiles in adobo sauce, finely chopped
2-3 ounces grated Chihuahua cheese (or mild cheddar)
1. Preheat oven to 350. Grease a 1 quart casserole or 8x8x2-inch ovenproof dish.
2. Heat the oil in a large, deep skillet. Fry angel hair nests until a deep golden brown color, about 3 minutes.
Watch it! They brown quickly!
Turn them over carefully so that they do not break apart. Transfer to prepared baking dish. Drain off all but about 2 tablespoons of the oil.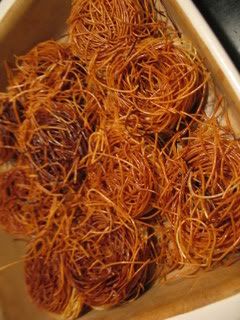 3. Blend the tomatoes, onion, & garlic in a blender and add it to the pan. Season with salt. Cook to reduce, stirring well, until the mixture is almost dry. Stir in the chilies.
4. Spoon tomato mixture over pasta. Pour over all of the chicken broth.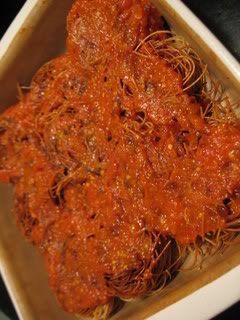 5. Cover loosely with foil and bake until the pasta is tender (check after 10 or 15 minutes). Stir well once it's done. Sprinkle the cheese on top & return to oven until the cheese is melted but not browned.
6. Serve with creme fraiche or sour cream and chopped white onions.