My good friends Sara & Jesse Jones (owners of
The Rotten Apple
in Grafton, Illinois) are opening a brewpub in St. Louis. It's called
The Stable
because it's housed in the
Lemp Mansion
's former stables at the corner of Lemp & Cherokee in South St. Louis.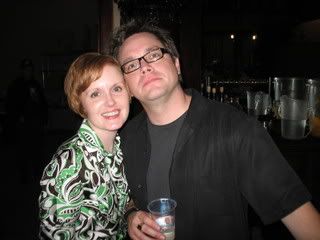 Sara & Jesse


The building is gorgeous and features antique fixtures. The huge floor-to-ceiling fireplace mantel was salvaged from a train station in Joplin, Missouri, and the bar--the hulk of a bar--was originally built by the Anheuser-Busch cabinet factory (back when the brewery could do those sorts of things for bar owners) and came from a building further down on Cherokee Street. The wrough-iron light fixtures in the entryway came from a chateau in France.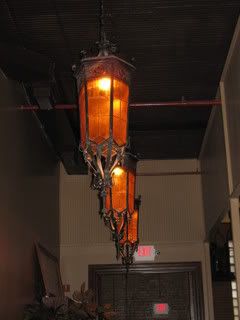 While the building no longer looks like a stable, the decor is somewhat reminiscent of such. The walls are painted dark brown and various antiques, mostly wood items, line the shelves at the top of the walls. The lighting is low and creates a cozy, comfortable atmosphere.

The Stable will offer house-brewed lagers and house-distilled spirits including gin, rum, moonshine, grappa, and absinthe. I got to try the grappa and absinthe on Saturday. The grappa is made from Missouri Norton grapes. I'd never had grappa before, and I didn't expect it to be so...harsh. By that I mean that it tastes like hard alcohol...and I, for some reason, expected it to taste like sweet wine. Nonetheless, I could still taste the grape in it. The absinthe is clear, not bright green, and has a strong mint flavor rather than anise, though the black-licoriceness of the anise is still present. It was quite tasty...for absinthe.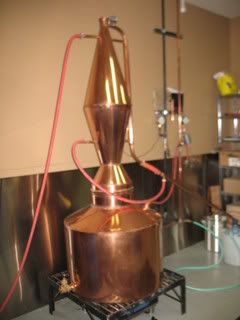 The Copper Still

Jesse said that The Stable will have one beer from each St. Louis brewery on tap at first. Their own brew will be available later this year. At first they will be serving a Helles-style beer with Marzen to follow (both are pale lagers). They will also have 16 taps to be filled with Belgian and "big bad American microbrews."


The brewing and distilling equipment are housed behind windows, so that patrons can see the gorgeous copper tanks and still. You can also get a glimpse of the coffee roaster that Mississippi Mud uses.
The menu features hand-made pizzas as well as a variety of starters, grinders & burgers, nightly dinner specials (including osso bucco and leg of lamb), and desserts. The menu is heavily Italian/Mediterranean influenced with dishes like polenta,
Charcuterie, a house salad with white beans & salami, a white anchovy pizza,
and ricotta cheesecake.
Executive chef Aaron Whalen (formerly of Bastante) was making pizzas on Saturday, and MAN WERE THEY GOOD! I am not just saying that because I know the owners. These pizzas were damned tasty! The crust, Aaron's own recipe, is hand-rolled and topped with a variety of creative ingredients. I tried the four-cheese pie (the
Fromaggio) and was really impressed by how good it was. I found out later that the "secret" ingredient is...white truffle oil. Yum.


All pizzas are 16" thin-crust pies.

The other pizzas on the menu sound pretty yummy as well...especially the
Muffaletta (olive spread, capicolla, mortadella, proscuitto, and cheese
),
the Potato Pie (catsup, mayo, mustard, ground beef, onions, cheddar and American cheese), & the
Pepperonata (rosemary and olive oil marinated red peppers with capers and
goat cheese).

The Stable will celebrate its grand opening on June 21, but look for the doors to be open for business sometime next week. Until then, here are a few more pics I took last weekend: