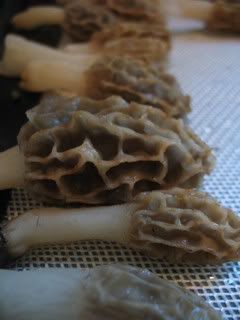 I got another (and the last) bag of morel mushrooms from the hunter/gatherer about a week ago.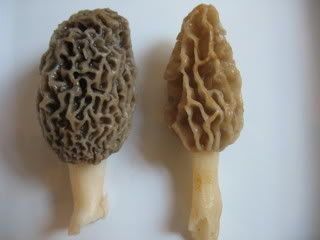 These were grays and yellows.
There were really
BIG
shrooms and
teeny-tiny
shrooms.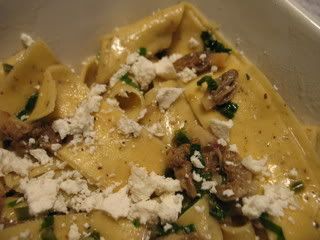 I first made an impromptu pasta with a sauce of morels, ramps, and ricotta salata cheese. I ate it over black pepper parpadelle noodles, which were actually too hearty for the delicate sauce.
Then, I saw a picture of veal chops with a morel mushroom sauce on
Sunday Nite Dinner
and decided to make that for dinner the next day.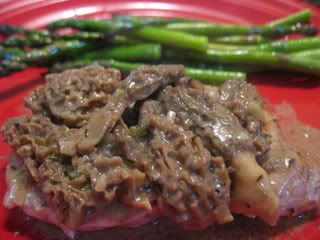 I adapted the recipe slightly and ate it over porkchops with fresh asparagus.
Morel & Coconut Cream Cognac Sauce


Ingredients:

6 tablespoons of canola oil
1 pound morel mushrooms, cleaned, halved if large
3 tablespoons ramps, diced

1 tablespoon fresh thyme leaves

1/2 cup Cognac
1 tablespoon Dijon mustard
3-4 tablespoons unsweetened coconut cream
Kosher salt and freshly ground pepper to taste
Directions:
Heat 2 tablespoons oil in a large ovenproof sauté pan over medium-high heat. Add the morels and sauté until they are tender and give up their liquid, about 5 minutes. Add the ramps and thyme and sauté until softened, about 3 minutes. Transfer to bowl and set aside.
Preheat oven to 400°F. Generously season chops with salt and pepper on both sides. Heat 2 tablespoons oil in the pan over high heat. Add chops to pan and sear until golden brown on both sides, about 3-4 minutes per side. Place the pans into the oven to finish cooking, about 5-6 minutes, or until desired doneness. Transfer the chops to a plate.
Deglaze the pan with Cognac, scraping up any browned bits on the bottom of the pan. Add Dijon mustard and stir to incorporate. Add the coconut cream, sauteed mushrooms, and any juices from the resting chops and bring to a boil. Adjust seasonings to taste. To serve, place one chop on each plate and spoon the morels on top.