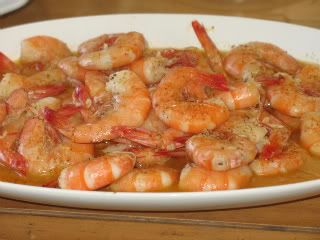 I've been on vacation all week. This is the first year since I've been teaching college courses (8 years!) that my spring break at both schools has fallen on the same week, so I actually got to
take a break
.
I made this shrimp dish last weekend, and since I am still
on vacation
, I am not going to write much about it...just going to post the recipe, which is so good that I am going to make it again soon for friends at home.
I didn't follow a particular recipe; I just sort of made it up as I went, so I am posting it just as I cooked it:
1. Melt 1 stick of unsalted butter with 1 clove of garlic (finely chopped) in a big stock pot or large, deep skillet over medium heat. Don't let the butter brown.
2. When it is melted, turn the heat to low and add a couple glugs of a dry white wine, the juice of a lemon, and a whole bunch of Old Bay seasoning (start with 2 tablespoons, then add more to taste). Bring to a simmer (turn up heat if need be, but just watch so that the butter doesn't brown).
3. Dump in 1 pound of medium-large shrimp (unpeeled), stir, cover & cook (stirring occasionally) until shrimp are pink and just cooked through.
4. Pour out onto large platter or bowl. Sprinkle with a bit more Old Bay. Eat with your fingers, a crusty baguette for dipping into the sauce, and many beers.