Thanks to Michelle of
Bad Girl Baking
, who chose this week's
Tuesdays with Dorie
recipe (you can see the full recipe on Michelle's blog). The "Granola Grabbers" made a great breakfast treat for the first week of school!
I started a new job this week. After 8 years of teaching college composition and literature courses, I'm now teaching high school English. I just couldn't make ends meet on an adjunct's pay, especially now that I am divorced. I was teaching 3-4 classes two days a week for a university, teaching 1-2 nights a week for a community college, AND working 3-4 days (including weekends) at the cooking school. It was exhausting! I simply couldn't pass up the salary, insurance, and retirement benefits of a high school job!
It all happened very suddenly. About three weeks ago, I got a call from the superintendent of a district near where I live (the school is about 10 minutes from my house) about interviewing. They needed someone with a Masters Degree in English to teach their college-credit courses. I hadn't applied to the district, but they somehow got my name from someone in my hometown. I interviewed two days later (on a Thursday), was offered the job two days after that (on a Saturday), then officially hired by the school board the next week (the following Tuesday). I signed my contract that Wednesday, organized my room all last week, and started teacher workshops this week. The students start tomorrow.
I'll be teaching four classes: a sophomore literature class, two college English classes, and a two-hour European studies course that will be team taught with a history teacher.
Even though I taught middle school many years ago, I had forgotten all of the extra things that teachers have to do...like standards-alignment, assessment, and such. I have been feeling overwhelmed and anxious. I just want to start teaching. When I plan my classes, I get excited about the possibilities. I hope my students will get excited about something, too, this semester.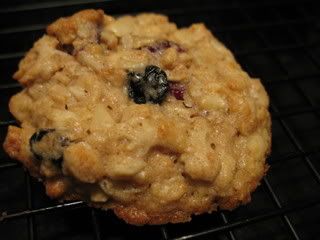 Anyway, I made the batter for these granola cookies on Sunday, baked a batch, and was amazed at how good--and healthy--they are! I altered the recipe slightly by using ingredients I had on hand...mixed dried berries (blueberries, raspberries, cranberries, & cherries) instead of raisins, macadamia nuts instead of almonds & peanuts, and wheat bran instead of wheat germ.
I put the rest of the batter in the fridge and will bake them tonight, so that I can take them to school tomorrow...a treat for the teachers' lounge on the first day of school.