What a simple, delicious recipe for this week's
Tuesdays with Dorie
! Jessica from
My Baking Heart
chose
Parisian Apple Tartlets
, a simple recipe that calls for only four ingredients: puff pastry, apples, brown sugar, and butter.
I made three different tarts: apple, nectarine, and blueberry. The recipe suggests peeling & quartering the apple, which is baked on a round piece of puff pastry like Jessica did...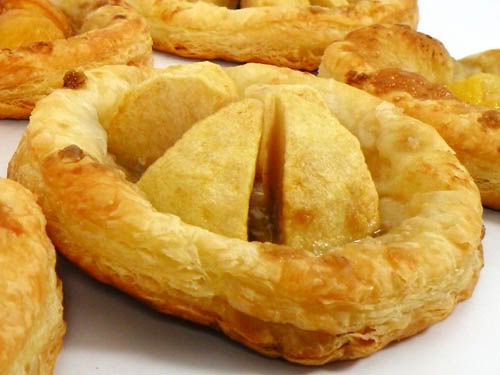 (Image from
My Baking Heart
)
However, I sliced the apple & nectarine and layered them on rectangular pieces of pastry (I just cut a sheet of pastry into 6 pieces). I tossed the blueberries with agave nectar and the apples with brown sugar & cinnamon (and dotted with a bit of butter). I topped the nectarine with sugar & ground ginger.
Tartlets before baking.
Overall, I thought the tartlets were good...but they needed something more. Next time, I'll brush the pastry with some ginger jam before adding the nectarines, and I'll slice the apple into smaller pieces so that the pastry will puff around it. Oh, and, I'll make caramel to drizzle over the top or sprinkle with powdered sugar.
Tartlets after baking.