Marinated Shrimp
I wanted to make some food to take to the winery for the fireworks on the 4th and remembered seeing a recipe a while ago on Food Network for shrimp that looked mighty tasty. I looked up the recipe and made it the night before, but it just didn't seem right...more mayonnaisey than I remembered. I didn't feel comfortable taking mayo-soaked seafood to sit outside for a few hours, so I did another recipe search and discovered that I made the wrong one. I should have made
Pickled Shrimp
. Oh well, the shrimp were still good for an after-class snack that night.
Instead, I made roasted asparagus wrapped with prosciutto, tomato/basil/mozzarella skewers, & marinated zucchini with green olives.
Cheddar Ale Spread
This is shown with rosemary flatbread, which I intended to make. But I did so much cooking this week that I simply didn't have enough time to put it together. Still, this tangy cheese spread was great on rosemary Triscuits. I did change the recipe a bit, substituting garden-fresh rosemary for the parsley, Newcastle Brown Ale for the beer, & sliced almonds for the hazelnuts.
Red Velvet Cupcakes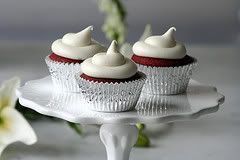 I'd been wanting to make cupcakes from scratch for a while and was inspired by these delicious looking treats, but I used
this recipe
instead.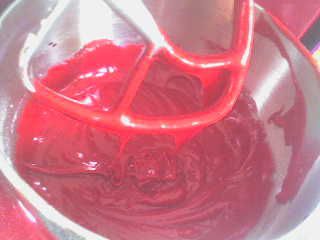 The batter called for 2 tablespoons of red coloring, so it was
really
red. I got it all over my hands, the countertop, the sink...red everywhere. It looked like something died in my kitchen.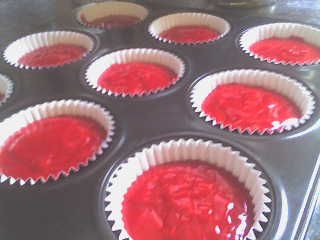 However, I managed to fill the cupcake pans pretty darn neatly.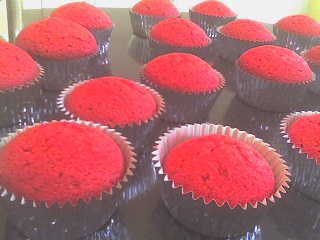 I was pretty happy with the results, especially since I don't usually do well with baking.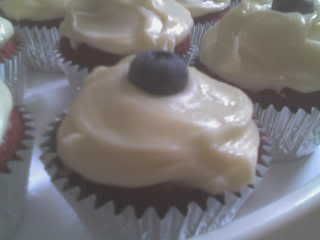 I used silver liners like the others, but I didn't pipe the icing on.
Still, they looked festive (topped with blueberries) & everyone liked them!