Since this is my last week of summer vacation, I've been doing lots of cooking-things-I've-never-cooked-before:
Truffled Egg Toast

I've been wanting to do something with the white truffle oil I have; I bought it last October to make mushroom pate for the Halloween party, but haven't used it since. One of the recipes in
Alone in the Kitchen with an Eggplant
is for Truffled Egg Toast, so I decided to try that.
1 teaspoon butter
2 eggs
1 teaspoon heavy cream
kosher salt
fresh ground black pepper
1 slice country bread, halved & toasted
white truffle oil
1. Melt the butter in a small, non-stick skillet over
very low
heat.
2. Whisk together the eggs & cream.
3. Pour eggs into pan with butter and stir
constantly
with rubber scraper. You're making soft scrambled eggs here, so be patient. The eggs should end up creamy, like custard...not dry and fluffy.
4. Spoon the eggs over the toast & sprinkle with salt & pepper. Drizzle with truffle oil.
This was pretty good, and I'll probably eat it again. Although, the oil didn't lend that much flavor. I have truffle flavored olive oil, and I wonder if that makes a difference. Is there pure truffle oil, or is it all flavored olive oil?
Roasted Grapes

I read about roasted grapes, which you are supposed to serve with cheese & crackers, on
MAC & CHEESE
and decided to give it a try for Port Club yesterday.
It's pretty simple:
1. Put a bunch of seedless grapes in a pie dish. I used red grapes.
2. Pour over a couple tablespoons of vinegar. I used balsamic.
3. Bake at 450 degrees for 15-20 minutes.
The grapes, which tasted like cherries, were delicious with water crackers & smoked white cheddar. Since they are sweet, they would be best with a strong cheese like bleu cheese or goat cheese. We also tried them with wheat crackers & fresh mozzarella, but the cheese was too bland and the crackers too over-powering.
Nicoise Salad
I was inspired by
this
: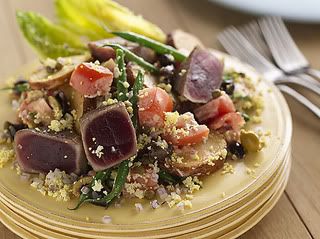 I didn't follow the recipe exactly; I just remembered what it looked like and tried to recreate it.
1. Put a handful of arugula in the bottom of a large bowl.
2. Top with 2 sliced, boiled new potatoes. I uncooked them just a bit, because I like the firmness.
3. Add a handful of fresh, steamed green beans.
4. Add a few halved green & black olives. I used the kind with chopped garlic that you can get at the bulk olive section of the grocery store.
5. Sprinkle with 1 hard-boiled egg that you've pressed through a sieve.
6. Coat a tuna steak with cracked pepper & kosher salt. Sear in a non-stick pan with a bit of olive oil, about a minute per side. Remove from pan & let rest.
7. Make a classic vinaigrette by whisking together 1 tablespoon of dijon mustard with 1/4 cup of balsamic vinegar and a pinch of salt & pepper. While still whisking, drizzle in 3/4 cup of olive oil.
8. Slice the tuna and layer it on top of the salad. Spoon over the dressing to taste.
I have to brag about how freakin' tasty this salad was. I lingered over it for about an hour... enjoying the warm potatoes that soaked up the dressing, the crunch of the fresh beans, the salty garlicy olives, & the peppery tuna. I will definitely make this again.
Eggs Benedict
I was a little nervous about making this, because in her book
Julie Powell
talks about how difficult it was to poach a perfect egg and how her hollandaise kept breaking. I was also worried about the timing of it. So, here's what I did this morning:
1. Toast the English muffin (I used whole wheat) & put on a plate.
2. Fry the Canadian bacon in a pan coated with cooking spray. Place on top of the muffin halves.
3. Bring a skillet of water with 1 tablespoon of white vinegar to a boil, reduce heat to a simmer.
4. While the water is getting ready, mix 3 egg yolks, 1 tablespoon of fresh lemon juice, 1 tablespoon of warm water, and a pinch of salt & pepper in a blender or food processor.
5. Carefully crack two eggs into small bowls. When the water is simmering, slowly pour each egg into the skillet. Leave them alone for 3 minutes, then remove them with a slotted spoon to a paper towel covered plate.
6. Finish the sauce by blending in 1 stick of
hot
melted butter. SLOWLY drizzle it in while blending.
7. Put the eggs on the muffins, spoon over some sauce.
8. Marvel at how much of a culinary genus you are.
I don't know what I was worried about. The eggs were perfect...nice shape, firm whites, runny yolks...and the sauce held together just fine. I plan to try it again next week, adding spinach and artichoke bottoms...a recreation of the
Eggs Sardou
I once ate at
Commander's Palace
in New Orleans.
And, finally, tonight I'm going to make...
Chopped Salad with Spicy Grilled Shrimp
Here's the plan:
Chopped fresh cabbage, fresh tomatoes, fresh bell peppers, corn off the cob, red onion, avocado, crisp bacon, black beans (maybe), & homemade creamy arugula dressing (using the green goddess
recipe
, but substituting arugula for the parsley) topped with shrimp coated in olive oil & Emeril's seasoning then seared in a non-stick pan.